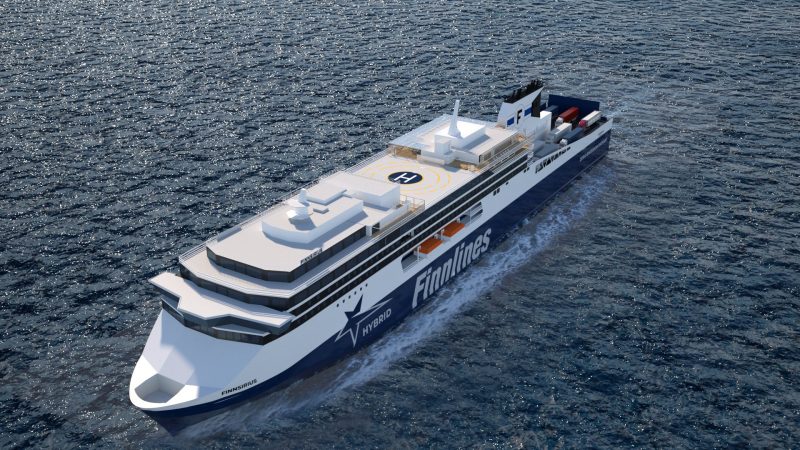 Modern and highly sophisticated ships
Superstar ro-paxes will be very modern and innovative vessels using several energy saving technologies.
Shore power for emission-free port calls
The ro-pax vessels will be 235 metres long with a cargo capacity of 5,200 lane metres. In other words, the vessels have the capacity to carry approximately 200 cars and 300 lorries per voyage. Superstar ro-pax vessel can carry a huge amount of cargo, but also 1,100 passengers.
Finnlines has used a lot of time to design cargo handling and its processes so that the vessel will get the best possible cargo system suitable for the planned route. Together the new vessels will offer increased stowage capacity with over 40% larger than current ships on that route.
Environmental aspects and sustainability are given high priority. The vessels will be able to plug into the local grid for quiet and emission-free port stays. The hybrid solution will reduce fuel consumption and allow zero emissions at berth. The noise during the stay in port will also decrease.
Operational aspects
Hull lines designed to optimise energy efficiency
Rudder bulb to increase energy efficiency
The vessel will comply with Ice Class 1A Super
More efficient cargo loading
Automooring at berth will ensure faster mooring and more efficient port operations.
Environmental aspects
Use of shore-side electricity in port to reduce fuel consumption, emissions and noise
An innovative air lubrication system to create bubble layers which will reduce hull resistance
Battery banks: lithium-ion battery systems to enable clean energy to be used onboard
Clean technology used in Superstar ro-pax vessels
Finnlines' Superstar ro-pax vessels will be using the latest technologies and innovations.
Battery banks
Lithium-ion battery systems to enable zero-emission operations and to reduce noise in port
Promas Lite
Promas Lite systems to increase energy efficiency
Air lubrication
An innovative air lubrication system to create bubble layers which will reduce friction and hydrodynamic resistance
Optimised hull
Optimised hull lines to optimise efficiency
Main engines
Main engines type and size carefully selected to achieve the lowest possible fuel oil consumption
Shore power
Use of shore-side electricity in port to reduce fuel consumption, emissions and noise
Automooring
Automooring to ensure faster mooring and efficient port operations