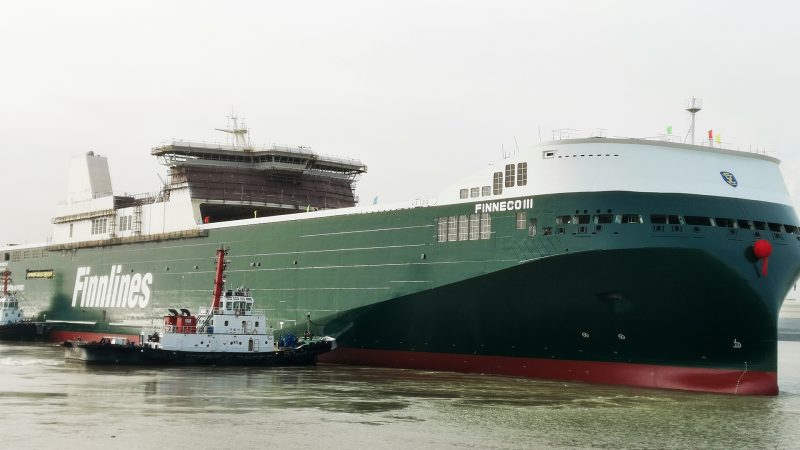 More capacity for freight
Hybrid ro-ros are very modern and innovative vessels, using several energy saving technologies.
The ship is 238 metres long with a cargo capacity of 5,800 lane metres. Consequently, the vessel can carry 400 trailers per voyage. Compared with the Company's second largest vessels, the cargo carrying capacity of the hybrid newbuilds increases by nearly 40%.
Nevertheless, efficient cargo operations are ensured by arrangement of stern ramps, internal ramps, and hoistable car decks. At the same the vessels are extremely flexible – a hoistable deck makes it possible to load any type of rolling freight up to 7 metres. Certain areas on cargo decks have been dedicated for loading of paper reels.
Operational aspects
Hull lines designed to optimise energy efficiency
Rudder bulb to increase energy efficiency
The vessel comply with Ice Class 1A Super
More efficient cargo loading
Flexible for all type of ro-ro cargo whilst tank top and main deck are designed free of pillar areas to accommodate paper and sto-ro concept
Fast loading and unloading with a tripple stern ramp arrangement
Environmental aspects
Lithium-ion battery systems to enable zero-emission operations and to reduce noise in port
An innovative air lubrication system to create bubble layers which will reduce hull resistance
Clean and renewable energy source: 600m2 of solar panels to produce electricity to users on board