Securing of road vehicles on ro-ro vessels
In accordance with the requirements for safe sea transportation, road vehicles to be carried on ro-ro vessels must have sufficient appropriate lashing points for securing units on ship's deck.
Detailed instructions on the location of lashing points and their strength conditions have been defined in the Standard EN 29367-1: 1989/ISO 9367.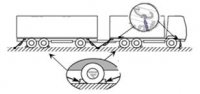 We would also like to remind you that the cargo inside the vehicle must also be properly secured and supported. In accordance with the Nordic Maritime Act, the vessel's master is entitled to refuse to accept road vehicles which due not comply with the above requirements.