Finneco I enters Finnlines' traffic
A long voyage to home waters: Yizheng (China) – Busan (Korea) – Yeosu (Korea) – Yantai (China) – Singapore – Suez Canal – Zeebrugge (Belgium)Yizheng (China) – Busan (Korea) – Yeosu (Korea) – Yantai (China) – Singapore – Suez Canal – Zeebrugge (Belgium)
After the delivery at the China Merchants Jinling Shipyard on 28 April 2022, MS Finneco I arrived in its homeport, Vuosaari in Helsinki, on 20 June. The hybrid ro-ro newbuilding project, which had started with concept design in 2018, had come to an end as the two sister vessels had also left the shipyard.
It's HUGE!
The first impression of the hybrid ro-ro was that it is huge. Captain Juhana Nuru had been working on ship documentation for about a year and was well familiar with arrangements. He had also attended the second sea trial and prepared the ship for the maiden voyage in China for two months. "The crew accommodation and the bridge are very spacious, but the cargo decks are gigantic. After all, the Eco ships are 20 metres longer than the Breeze class, where I have previously worked. A truck can turn without any problem on deck," Nuru says.

The other Captain, Mikko Lindqvist, de-scribes the ship as 'massive'. "When meeting headwinds, the Finneco behaves better than the Breeze class. However, the size can be felt during harbour manoeuvres as the margins are smaller. The ship also has new features to get used to. The bridge is located amidships and bow thrusters are of a different type."
The ship is equipped with new automatics that are not fully automatic but must be checked and maintained. Nuru gives some examples: "The air lubrication system uses six compressors and a total of 60 sniffers monitor the air quality in the cargo spaces. All equipment must be tested regularly."
Experiencing oceans and ordeals
The ship was built during the Covid-19 pandemic, which made travel difficult and caused many changes in the schedule. Corona tests and restrictions were quite an ordeal as the crew was tested numerous times before and after arrival in China. In the port of Yantai the crew was not allowed to leave the ship at all and had to wear protective clothing on cargo decks. "It was a relief to start the engines and sail out," Nuru says.
If the wind is right, the Indian Ocean, the Suez Canal and the Baltic are only sea water under the keel, but Lindqvist points out that the crew is on its own in ocean traffic. "In heavy weather you cannot find any shelter and there is no assistance nearby."

The experienced crew did not find the long voyage rough, but the heat (weather +40° C, sea water +32° C) and humidity in the tropics made the air conditioning and, consequently, the engine crew, suffer. Potable water was "bunkered" in Singapore and Lindqvist praises the crew for their positive attitude and dedication during the ocean crossing.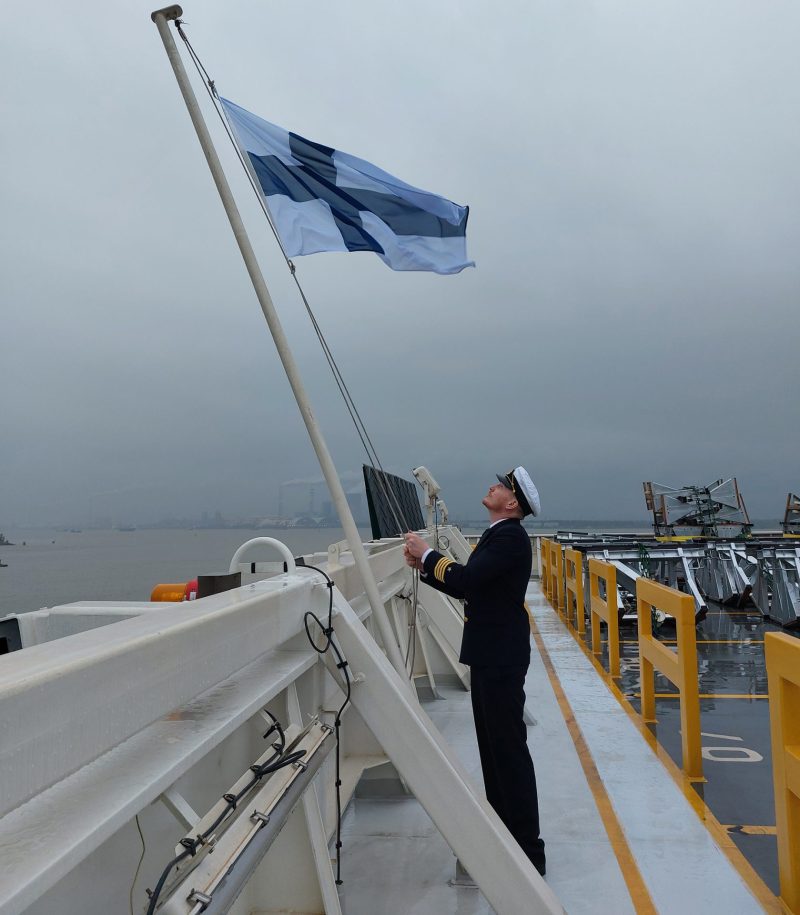 <- Captain Juhana Nuru was more than honoured to raise the Finnish flag after delivery.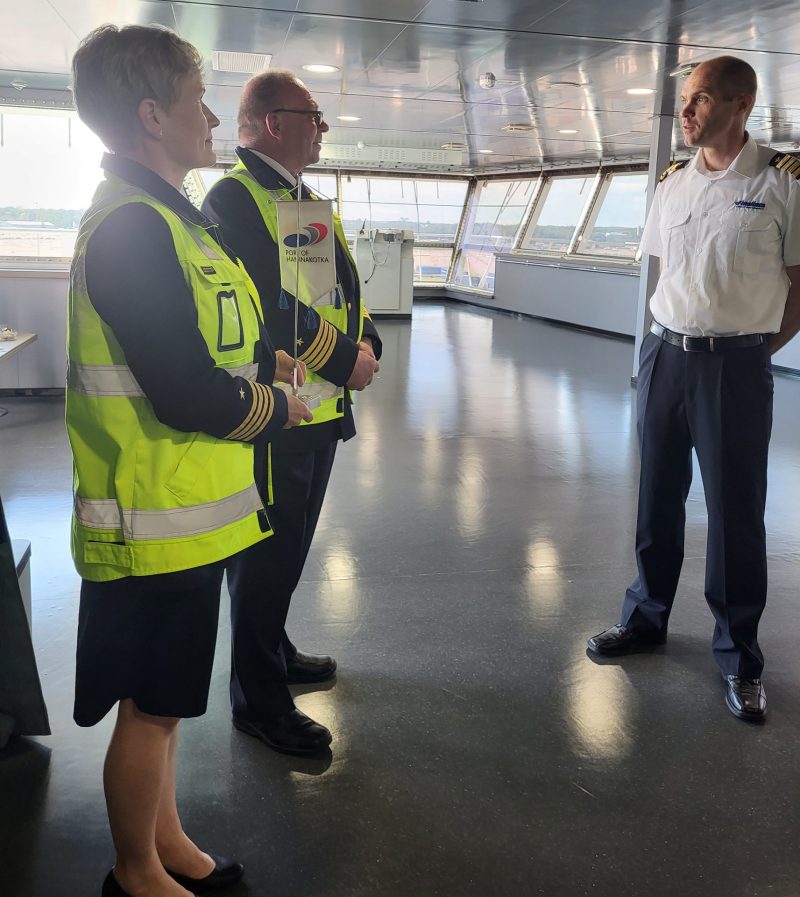 <-Suvi-Tuuli Lappalainen, Development Manager, and Tapani Pasanen, Operative Manager, from the Port of HaminaKotka welcomed MS Finneco I and handed over the official pennant flag to Captain Mikko Lindqvist.