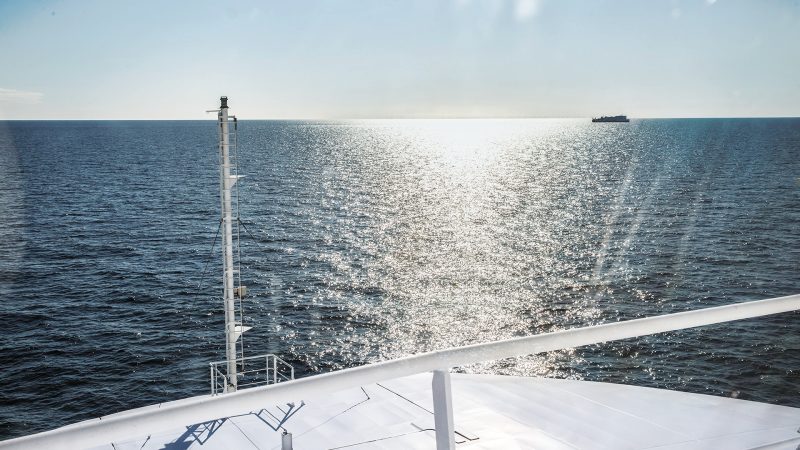 Climate actions
The International Maritime Organization, IMO, has set an ambitious target to reduce total annual GHG emissions from international shipping by 50% by 2050. In order to reach the target, new technologies must be developed and alternative fuels produced in the upcoming years. Finnlines supports the transition towards greener shipping and participates in developing low-emission maritime transportation.
Shipping is a global business and according to the IMO it is the most environmentally friendly mode of transport. Up to 90% of the world's commercial goods are transported by sea. Shipping as a mode of transport only creates approximately 2.6% of the global greenhouse emissions, figures are similar to the emissions from global air traffic.
Shipping is extremely important to the industry and economy. Approximately 90% of Finnish exports and 80% of imports are transported by sea. A liner shipping service with frequent departures is crucial for processed products, such as foodstuffs.
Ships with a higher utilisation rate are also more environmentally efficient. The best results are achieved by combining passenger traffic with cargo transport. This is exactly what Finnlines' ro-pax service does. The high utilisation rate of the routes and vessels makes sustainable and responsible travel possible.
Reducing emissions is one of our most important targets. We aim to decrease our emissions per transported cargo unit year-by-year. Our performance will improve for instance through investing in fleet renewal and route optimization. Both our customers and the environment benefit from our efforts to reduce the carbon footprint.
We have systematically invested over EUR 1 billion in our fleet and operations during the past decade. Investments have included construction of new vessels, retrofits to existing vessels and development of port operations.
In 2017, we completed a EUR 100-million environmental programme, which included:

The installation of emission abatement systems to meet the more stringent environmental regulations. The exhaust gas cleaning systems remove harmful impurities.
Change of propeller blades and rudders. By reblading nine ships and fitting six ships with bulb rudders, we managed to reduce their water resistance and gain energy savings

In 2018, we completed a EUR 70-million programme of lengthening six of our ro-ro vessels. Their capacity was increased by 30% and emissions per transported cargo unit reduced significantly.
Energy efficiency is being maintained by good planning of our daily operations. For example, micro-organisms, algae and vegetation may grow on the underwater hull of ships, increasing water resistance and fuel consumption. During the open water season the underwater hull of all of our ships is cleaned regularly in order to reduce friction and to cut fuel consumption. Silicone anti-fouling has been applied on the bottom of two ships, which operate in the ice-free Southern Baltic. Silicone anti-fouling reduces the friction between ship's hull and water and reduces fuel consumption.
Our significant EUR 500-million investment program will further increase Finnlines' energy efficiency and reduce emissions as well as it will provide perfect tools to respond to future customer needs and requirements. The program consists of three green hybrid ro-ro and two eco-friendly Superstar ro-pax vessels, which will be taken into service in 2022-2023.
Ballast water is used to trim and stabilize ships, but it may carry harmful aquatic species and out-compete native species, disrupting fragile marine ecosystems. In accordance with the IMO Ballast Water Management Convention ships must be fitted with treatment equipment during a transitional period. Finnlines has started with installations, which will be completed in 2023.
We continue to improve fuel efficiency. This means speed reduction, optimisation of schedules and running on optimal speed, load and trim. Our professional personnel play a very important role in reaching this goal.
Finnlines' ongoing EUR 500 million Newbuilding Programme, which includes three green hybrid ro-ro vessels as well as two eco-friendly Superstar ro-pax vessels, will further increase Finnlines' energy efficiency. The vessels will be built with the top technical and environmental views in mind. For example lithium-ion battery banks on ro-ro vessels and on-shore power in ro-pax vessels will enable 'zero emissions in port'. The vessels will be equipped with several advanced technologies designed to save energy and thus reduce emissions.
Finneco I was delivered on 28 April 2022, Finneco II on May 2022 and the third and last of three vessels on 6 June 2022. The Superstar ro-pax vessels are set to start in traffic in 2023.
We review environmental figures annually and report our annual emissions to the International Maritime Organization IMO and EU. The results are verified by a third party, in our case classification society.