Celebrating 75 years of shipping
IN JULY, FINNLINES LAUNCHED A NEW FREIGHT ROUTE between Rosslare, Ireland, and Zeebrugge, Belgium, providing an important link between Ireland and mainland Europe. This line was highly welcomed by the market and, therefore, a smaller ro-ro vessel was soon replaced by a larger vessel with a cargo capacity of nearly 4,200 lane metres.

WE ARE ANXIOUSLY WAITING FOR THE DELIVERY OF TWO NEW SUPERSTAR RO-PAX VESSELS which will start operating on our Naantali–Långnäs–Kapellskär route. All in all our EUR 500-million newbuilding programme has progressed well and two Superstar ro-pax vessels, both larger than any vessels in our present ro-pax fleet, are expected to arrive in the autumn of 2023. The first vessel, Finnsirius, was launched in August 2022 and the keel laying of the second one, Finncanopus, was celebrated in September. We are confident that combining freight and passengers on this route contributes to the efficiency of our operations, not to mention the environmental benefits.

THE SHIPPING INDUSTRY CONTINUES TO STRIVE FOR ENERGY TRANSFORMATION and decarbonisation. Electrification has been one of the key words on the path towards a carbon-neutral future. More importantly, when oil and gas exports from Russia cease, it is of paramount importance to focus on and invest in technology which enables to reduce consumption now. Therefore, Finnlines EUR 500-million investment comprises of most advanced technological installations that are currently available so that we can have instant savings and improve our fuel economy.

DURING THE LAST FEW YEARS WE HAVE CONFRONTED UNFORESEEN EVENTS, such as the Covid-19 pandemic and the current crisis in Ukraine. Nevertheless, Finnlines has managed to adapt to challenges and rapid changes. As we have stated many times, Finnlines has a strong shareholder, the Grimaldi Group, which is Europe's largest ro-ro/ro-pax operator and therefore adds greatly our financial and operational leverage.

IN SPITE OF TURBULENT TIMES, Finnlines celebrated in September its 75-year anniversary. All three Hybrid Green ro-ro vessels were named officially in the presence of godmothers during September. Some 1,300 customers, partners, stakeholders and Finnlines personnel attended Finnlines' 75-year anniversary reception. Finneco II sailed to South Harbour in the middle of Helsinki city centre and we all were impressed by the massive Finneco vessel.

ALTHOUGH WE CELEBRATED A COMPANY WITH A LONG HISTORY, which has navigated in stormy waters and survived many crises, our emphasis is on the future. "Navigare necesse est" is a saying that holds over the centuries, since 90 per cent of goods are transported globally by the sea. Finland in particular, our economy and our national security of supply, is extremely dependent on cost-efficient cargo services and maintaining the critical maritime bridges, which Finnlines together with our clients take care of.

FINNLINES INVESTS IN THE FUTURE for the long-term, and operating with a renewed fleet with state-of-the-art technology we see opportunities to grow and serve our customers more efficiently, more eco-friendly and more reliably than ever.

THIS EDITION OF FINNLINES NEWS RECOUNTS THE 75-YEAR ANNIVERSARY, and reports how we are investing in passenger traffic with new Superstar ro-pax vessels and how our professional crew is "eco-trained" to cut fuel consumption further onboard the ship. Enjoy reading the 3rd edition of Finnlines News.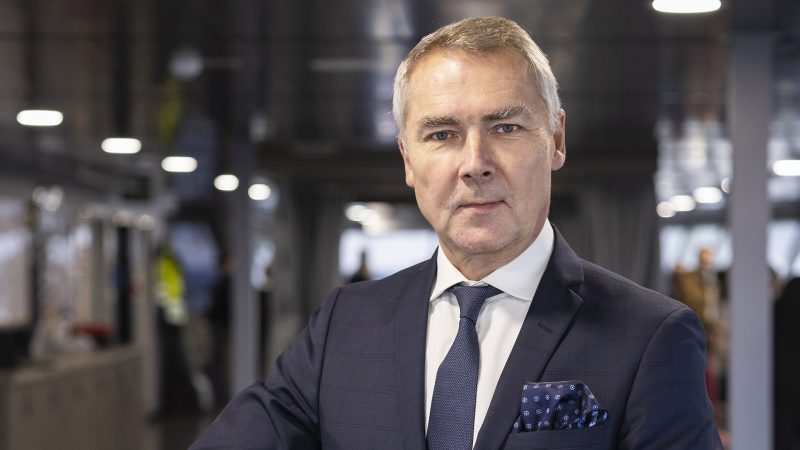 Tom Pippingsköld
President and CEO