Finnlines' Financial review January–June 2023
Finnlines Plc, Press release, Helsinki, 27 July 2023
Tom Pippingsköld, President and CEO, in conjunction with the review
"The Finnlines Group recorded revenue totalling EUR 336.4 (356.9 million), a decrease of 6 per cent compared with January–June 2022. Shipping and Sea Transport Services generated revenue amounting to EUR 325.3 (343.8) million, of which passenger-related revenue was to EUR 31.5 (25.6) million. The revenue of Port Operations was EUR 21.4 (24.8) million.
Economic growth is projected to be modest in the EU area in 2023, but some moderate improvement is forecast for 2024. According to the statistics of the Finnish Customs the total value of exports increased by 1.0 per cent, but the value of imports decreased by 14.3 per cent year-on-year (January–May 2023 vs. 2022). Due to the war and high interest rate environment consumer and business confidence has remained below long-term average. Inflation is also expected to remain persistently high.
Lower import volumes have reduced cargo flows and together with lower bunker surcharge has affected Finnlines Group's turnover. Lower volumes in some of our routes forced us to either reduce the frequency or the number of vessels in the route. Thus, we decided to charter out one roro to the Grimaldi Group. Moreover, we have reduced capacity where there are lower volumes, and increased capacity where we see and have growth.
Resilience and adaptation have enabled Finnlines to navigate through the economic cycles during the past few years. We also want to grow our business and open new routes for our customers, the latest is the Sweden–Poland line where one ro-pax vessel is expected to start to operate daily between Malmö and Świnoujście in few weeks time.
Passenger business has increased very well after the pandemic and Finnlines can offer superb new vessels and services on our Finland–Åland–Sweden route. The first of these new Superstar ro-pax vessels, Finnsirius, was delivered on 18 July 2023, as scheduled, and will enter the Naantali–Långnäs–Kapellskär route in mid September. The second vessel, Finncanopus, will join Finnsirius by the end of the year, to the same route. These Superstar ropax vessels, our "Crown Jewels", will offer a splendid service to our passengers and drivers and an increase of close to 30 per cent of cargo capacity. They will replace the current Star-class ro-pax vessels, which will be transferred to the Malmö–Travemünde line and offer there, in turn, an upgraded service, both for cargo customers and passengers.
Emissions from the global shipping industry account for around 3 per cent of world's total carbon emissions. Hence, IMO and the shipping industry work together for reducing emissions. European Union has made a decision to expand the Emissions Trading System (ETS) to include maritime sector from 1 January 2024 onwards.
The Finnlines Group continues to invest more and more in its green transition and with its five new hybrid vessels, onshore power systems, other high technology installations and operational measures, it will remain on top of its peers towards lower carbon and later to carbon neutral traffic. Finnlines is already finalising its new major green vessel investment programme to further strengthen its leadership for greener infrastructure within maritime logistics in the Baltic Sea and North Sea areas."
Attachment:
More information
Tom Pippingsköld, President and CEO, Finnlines Plc
tom.pippingskold@finnlines.com, +358 40 519 5041
Photo requests and other enquiries
communications@finnlines.com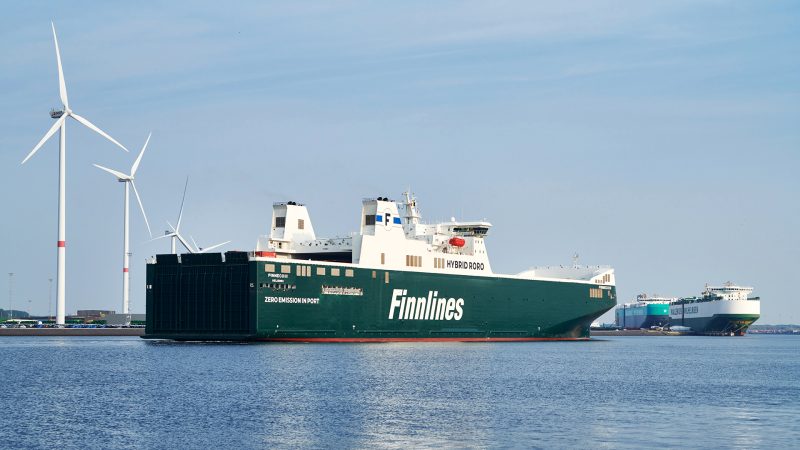 Finnlines Plc
Finnlines is a leading shipping operator of freight and passenger services in the Baltic Sea, the North Sea and the Bay of Biscay. The company is a part of the Grimaldi Group, one of the world's largest operators of ro-ro vessels and the largest operator of the Motorways of the Sea in Europe for both passengers and freight. This affiliation enables Finnlines to offer liner services to and from several destinations in the Mediterranean, West Africa, Atlantic coast of both North and South America as well as Asia and Australia.