Finnlines' new vessel, Finnsirius, debuts in September – special program during the maiden voyage
Finnsirius sets off for its maiden voyage from Naantali via Långnäs to Kapellskär on Friday 15 September 2023. The first passengers will then get to travel on the new vessel. The maiden voyage will feature a special program, and ticket sales have just started.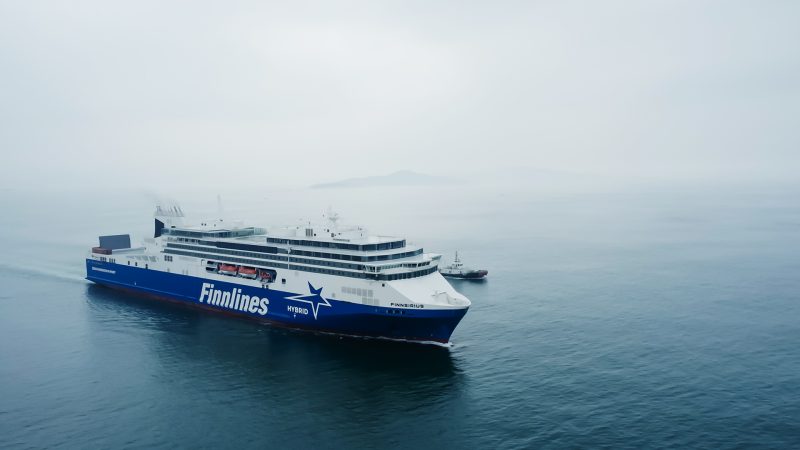 Finnsirius is the first of Finnlines' two new freight-passenger vessels in the Superstar-class and will enter the Naantali–Långnäs–Kapellskär route in the autumn. The Superstar vessels will deliver more experiences during the sea voyage.
Finnsirius is without doubt the most interesting new passenger ship on the route between Finland and Sweden in the autumn. When travelling with Finnlines one feels the sea and the Archipelago spirit as Finnsirius has  panoramic windows everywhere, says Marco Palmu, Head of Finnlines' Passenger Services.
Passengers can admire the sea view on the glass-covered terrace or in the luxurious spa, which has an outdoor jacuzzi. Well-being and fitness have been included in the design and Finnsirius has a yoga studio and a gym.
The ship has first-quality business and lounge areas and a large duty-free shop.
Multiple dining venues
Passengers can enjoy the sea voyage with all their senses as Finnsirius offers multiple dining venues, as many as seven bars and restaurants. Eat and drink by panoramic windows while viewing the Archipelago at the same time.
In addition to the traditional buffet, passengers can choose among Fisherman's Bistro, Barrel Bay Bar & Tapas and Micke's Wine & Dine. A top chef, Henri Alén, has been involved in the menu design and the Swedish multi-awarded bartender Josephine Sondlo has planned a choice of drinks.
Our restaurant world will be amazing, Palmu says.
A cozy area in the restaurant world has been designed for families with children. There is also an adventure-in-space themed area for various activities, like a climbing wall on deck 12.
Finnsirius has many cabin categories, ranging from basic compact cabins, to cabins which can accommodate six, and luxurious suites.
Pets have also been considered in the ship design. Close to the pet cabins there is an area to walk dogs who are also allowed play and romp freely in a fenced area on deck 12. The bistro has a separate area, which welcomes pets.
Would you hold a meeting at sea? Finnsirius offers a great setting for companies to meet in modern conference rooms with capacity for up to 72 persons.
The new ship has magnificent facilities to hold an efficient and creative workshop or team meeting, a board meeting or a kick-off management meeting, Palmu gives a useful hint.
As a new feature, passengers travelling without a vehicle are also welcome on the Naantali–Långnäs–Kapellskär route, and for those using public transport, travelling is hassle-free. From mid-September, there will be a public transport from Turku to the port of Naantali. There will also be public transport between Långnäs and Mariehamn and between Kapellskär and Norrtälje.
Maiden voyage with program in September
Finnsirius' maiden voyage from Naantali to Kapellskär will take place on Friday 15 September 2023. The first passengers will then get to travel on the new ship and enjoy special programmes: music entertainment, a guided tour around the ship, extra offers in the restaurants and in the tax-free shop. Tickets for the maiden voyage are now available via Finnlines' website.
Finnsirius departures from Naantali in the mornings
There is no need to wake up at dawn as the morning departure from Naantali takes place at 11:45 on Monday–Wednesday, and at 10:30 on Thursday–Sunday. The ship arrives in Kapellskär after rush hours and the drive to Stockholm takes only one hour. Finnsirius departs from Kapellskär in the evening.
The fact is that Finnlines offers the fastest sea route between Southern Finland, Åland and Sweden, Palmu says.
Book your Finnsirius voyage today.
More information
Marco Palmu, Head of Passenger Services, Finnlines Plc
marco.palmu@finnlines.com, +358 40 773 4894
Photo requests and other enquiries
communications@finnlines.com
Finnlines Plc
Finnlines is a leading shipping operator of freight and passenger services in the Baltic Sea, the North Sea and the Bay of Biscay. The company is a part of the Grimaldi Group, one of the world's largest operators of ro-ro vessels and the largest operator of the Motorways of the Sea in Europe for both passengers and freight. This affiliation enables Finnlines to offer liner services to and from several destinations in the Mediterranean, West Africa, Atlantic coast of both North and South America as well as Asia and Australia.