Finnlines' Superstar ro-paxes celebrate launching and keel laying
Finnlines is building two Superstar ro-pax vessels. The first vessel, Finnsirius, was launched on 30 August 2022 and the keel laying of the second one, Finncanopus, was celebrated on 1 September 2022. The two freight-passenger vessels will start to operate from Finland to Sweden and Åland Islands in 2023.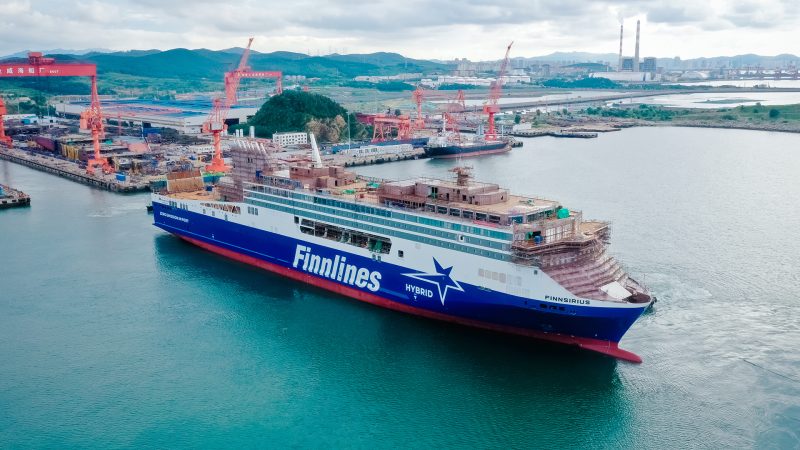 Finnlines has successfully completed the launching of the first Superstar ro-pax vessel, Finnsirius, construction on water will now continue. Construction of the second Superstar ro-pax vessel is also proceeding and a keel laying ceremony took place at the China Merchants Jinling Shipyard (Weihai) to officially mark the start of the construction, i.e. hull erection.
Finnsirius and its sister vessel Finncanopus will operate on the Finland–Sweden route where Finnlines has sailed since 1997. The ports of call are Naantali in mainland Finland, Långnäs on the Åland Islands and Kapellskär in Sweden.
The combined freight-passenger vessel will have capacity for about 300 lorries, 200 cars and 1,100 passengers. The vessels are 235 metres long and they utilise the latest innovative technologies.
"Superstar ro-paxes will be larger than the existing Star class and they will be Finnlines' flagships both in terms of size and technology, scaling up the connection and raising the standard offered to our customers," says Antonio Raimo, Line Manager Finnlines.
Compared with the Star class vessels, the cargo carrying capacity of the Superstar ro-paxes will increase by 20%. Finnlines has designed cargo handling procedures so that they will be highly efficient for the Finland-Sweden route.
With comfortable cabins, large public spaces and upgraded services the vessels offer a new travel experience for passengers. "We offer the most convenient schedules for crossing the Baltic Sea," says Raimo.
"We are proud to introduce the next generation of ro-pax vessels, which will enter service in 2023. With the latest technologies and sustainable innovations, these large vessels will not only bring economies of scale to our customers, but also a lower environmental footprint. Our drive to continuously improve both operational and financial efficiency ensures that we can continue to invest in our fleet and grow with our customers," says Tom Pippingsköld, President and CEO of Finnlines.
The next milestone for the Finnlines EUR 500-million Newbuilding Programme will be launching of the Finncanopus in January 2023. The ro-pax vessels are expected to be delivered in the 3rd and 4th quarter of 2023. The Newbuilding Programme also includes three hybrid ro-ro vessels already operating on Finnlines' routes.
Emission reduction technology
Shore power connection
Exhaust gas abatement
Waste heat recovery
Battery pack
Air lubrication
Auto-mooring
Ballast water treatment system
Ship particulars, Finnsirius / Finncanopus
Type of vessel  : Cargo-passenger
Delivery: 2023
Ice class: 1 A Super
Length, overall: 235.0 m
Gross tonnage: 64,600
Deadweight: 11,500
Lane metres: 5,200
Passengers: about 1,100
Passenger cabins: 323
Route: Finland–Sweden (Naantali–Långnäs–Kapellskär)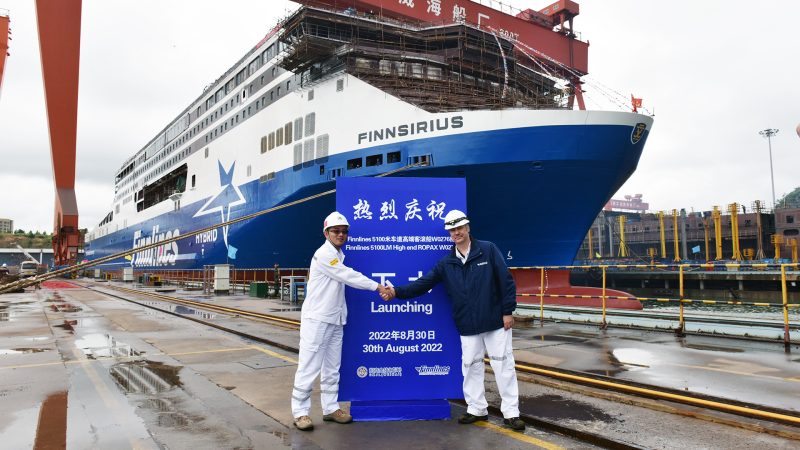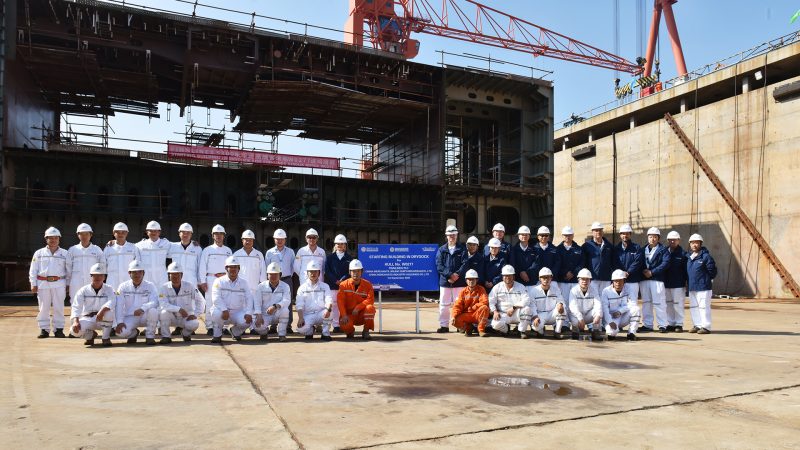 Picture material, high resolution
For further information, please contact
Tom Pippingsköld
President and CEO
phone +358 40 519 5041
tom.pippingskold@finnlines.com
Press contact
Communications Department, communications@finnlines.com
Finnlines Plc
Finnlines is a leading shipping operator of ro-ro and passenger services in the Baltic Sea, the North Sea and the Bay of Biscay. The Company is a part of the Grimaldi Group, one of the world's largest operators of ro-ro vessels and the largest operator of the Motorways of the Sea in Europe for both passengers and freight. This affiliation enables Finnlines to offer liner services to and from any destination in the Mediterranean, West Africa as well as the Atlantic coast of both North and South America.