Finnlines wants to remain a reliable sea bridge – deepens its commitment to Åland
Finnlines Plc, Press release, Mariehamn, 3 November 2023
Finnlines has been operating Åland for ten years, and continues being a reliable bridge to the Finnish mainland and Sweden. On Tuesday 31 October, Finnlines' general management met with important stakeholders and decisionmakers, focusing on how to further develop and deepen the operator's commitment to Åland.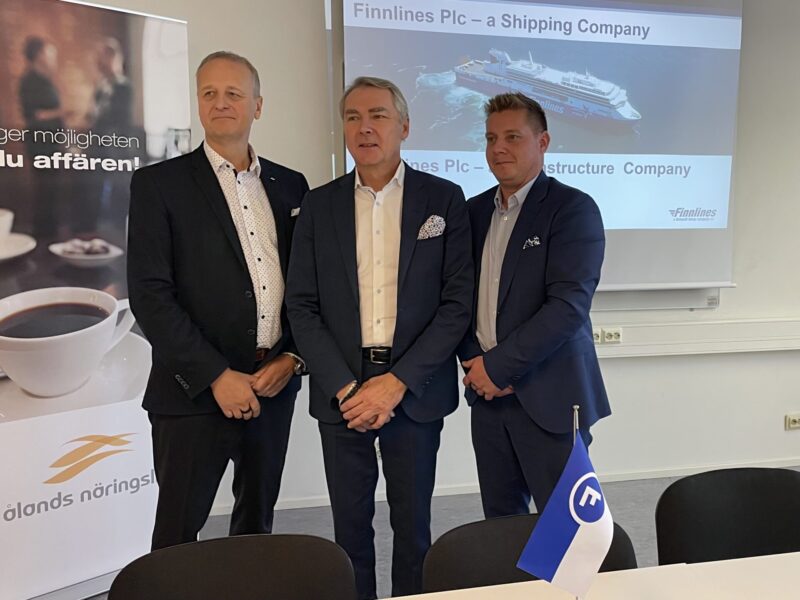 The Finnish autonomous region Åland has a strategic position on the sea motorway between Finland and Sweden. Finnlines has been operating Åland since October 2013 and has thus for ten years contributed to meeting the transport needs of the business sector, safeguarding security of supply and providing smooth passenger services for residents and visitors.
Finnlines carries out four sailings to Åland every day – two in each direction. The frequency of the sailings will remain unchanged, but with even more capacity when a second Superstar vessel is introduced Q1 2024. The operator's intention is to continue delivering a reliable connection to and from Åland for the foreseeable future, always with sufficient capacity for both freight and passengers.
"In our view we are building bridges, not just vessels. We are a reliable infrastructure connection and set up sea bridges with a long-term commitment. We belong to a large group, which is beneficial as it makes it possible for us to invest in new sustainable vessels. But we are also a local operator, with a clearly local focus on our different routes. Långnäs is and will remain a key port in our Finland–Åland–Sweden route, even if we also might call at Mariehamn on some occasions", says Tom Pippingsköld, President and CEO, Finnlines.
Tuesday 31 October, Finnlines general management conducted a number of meetings with The Åland Chamber of Commerce (Ålands Näringsliv ), political stakeholders from The Parliament of Åland (lagtinget ) and The Government of Åland (landskapsregeringen), Visit Åland, Port of Långnäs and Lumparland municipality, focusing on how to develop and deepen Finnlines commitment to Åland. Finnlines was also elected a member of The Åland Chamber of Commerce at the organization's board meeting 30 October.
"As growth is close to zero in the entire Baltic Sea area, cooperation is an important economic factor. We are convinced that Åland has great potential, and that we can offer the ålandic business sector growth opportunities," says Tom Pippingsköld.
"There is a shared interest with the ålandic trade and business sector. All ropax vessels on our Finland–Germany and Finland–Åland–Sweden routes are registered in Mariehamn. This is because we want to facilitate cooperation with ålandic companies. We see clear advantages of being able to participate in an umbrella organization with 500 members. By building a cluster around our operations there are possibilities to generate local jobs, which not least could favor small enterprises," says Thomas Doepel, Vice President and Deputy CEO, Finnlines.
Finnlines is currently finishing its EUR 500 million Green Investment Programme, consisting of five vessels with competitive advantages and state-of-the-art technology reducing environmental impact.
"Another purpose of our visit to Åland is to tell about our sustainability work, how we are step by step implementing the best technology available. We will continue our investments in newbuilds, and shift to sustainable fuels when we can rely on the market. We will also continue upgrading our older vessels with new technology," says Thomas Doepel.
Since a few years, Finnlines has a new focus on passenger services. This is clearly visible when looking at the ro-pax Superstar newbuilds: Finnsirius, operating since September 2023, and Finncanopus with expected to join the same route in early 2024.
"When we started operating Åland, it was with smaller vessels, mainly carrying professional drivers as passengers. We have then added capacity step by step. So now on Finnsirius and soon also Finncanopus, we can bring 1,100 passengers on each departure, we have nice restaurants, a spa and a very attractive onboard experience for our passengers overall", says Marco Palmu, Head of Passenger Service, Finnlines.
"We hope to help increasing the tourism to Åland, where we see a large potential. Therefore, we also wish to deepen our cooperation with Visit Åland, with a joint objective to attract more visitors to Åland. Our part of this work is to deliver reliable and comfortable transport solutions, be a strong partner for the ålandic hospitality industry, and invest in marketing of Åland both in Sweden and on the Finnish mainland", says Marco Palmu.
More information:
Tom Pippingsköld, President and CEO, Finnlines Plc
tom.pippingskold@finnlines.com, +358 40 519 5041
Thomas Doepel, Vice President and Deputy CEO, Finnlines Plc
thomas.doepel@finnlines.com, +358 505654273
Marco Palmu, Head of Passenger Services, Finnlines Plc
marco.palmu@finnlines.com, +358 40 773 4894
Photo requests and other enquiries:
communications@finnlines.com
Finnlines Plc

Finnlines is a leading shipping operator of freight and passenger services in the Baltic Sea, the North Sea and the Bay of Biscay. The company is a part of the Grimaldi Group, one of the world's largest operators of ro-ro vessels and the largest operator of the Motorways of the Sea in Europe for both passengers and freight. This affiliation enables Finnlines to offer liner services to and from several destinations in the Mediterranean, West Africa, Atlantic coast of both North and South America as well as Asia and Australia.