Finnlines will soon welcome foot passengers to its Sweden–Finland route – two departures a day
Finnlines ships, which operate from the Port of Kapellskär, north of Stockholm, via Långnäs on the Åland Islands to Naantali, close to Turku in Finland, offer travellers comfort and a genuine sea and archipelago spirit.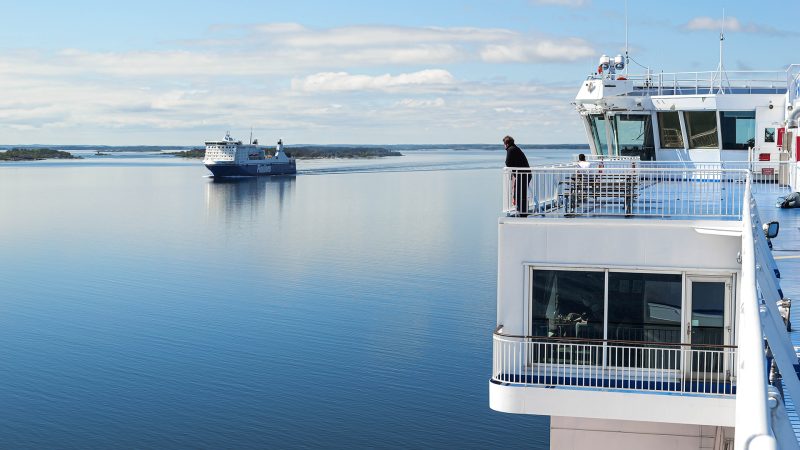 Today, Finnlines offers two daily departures seven days a week from Sweden via the Åland Islands to Finland. A sea voyage is a good option for those travelling because of work or those heading for a holiday. Buffet meals are included in the ticket and the sea voyage is peaceful and pleasant.
To board the ship, passengers must have a vehicle, which does not have to be a car, bicycles are allowed just as well. However, when two larger Superstar class ships enter the route as from September 2023, footpassengers can also embark the ship. Bicycles and cars can stay at home.
«I look forward to welcoming footpassengers on our fantastic new Superstar-ships in autumn 2023. The ships will add flexibility for our passengers on the route,» says Marco Palmu, Head of Passenger Services at Finnlines.
Travel comfort will improve further on the new ships. Passengers will have an opportunity to enjoy the archipelago through panorama windows, admire Nordic interior design and bathe in a genuine Finnish sauna. The ships have several cabin categories and the restaurants serve meals and drinks created by prominent cooks and bartenders.
«I can already promise that the travel experience on the new Superstar-ships will be something extra,» Marco Palmu adds.
Finnlines has two daily departures from each port on the Kapellskär–Långnäs–Naantali route. The sea voyage from Kapellskär to Naantali only takes 8–9 hours.
More information:

Marco Palmu, Head of Passenger Services, Finnlines Plc
marco.palmu@finnlines.com, +358 40 773 4894
Photo requests and other enquiries:
communications@finnlines.com
Finnlines Plc
Finnlines is a leading shipping operator of ro-ro and passenger services in the Baltic Sea, the North Sea and the Bay of Biscay. The Company is a part of the Grimaldi Group, one of the world's largest operators of ro-ro vessels and the largest operator of the Motorways of the Sea in Europe for both passengers and freight. This affiliation enables Finnlines to offer liner services to and from any destination in the Mediterranean, West Africa as well as the Atlantic coast of both North and South America.