The first hybrid Superstar freight-passenger vessel delivered to Finnlines
Finnlines Plc, Press release, Helsinki, 18 July 2023
Finnsirius, the first of the series of two freight-passenger (ro-pax) vessels, was delivered at the China Merchants Jinling Shipyard in Weihai, China, on 18 July 2023. The vessel will enter Finnlines' Finland–Sweden (Naantali–Långnäs–Kapellskär) line. Traffic is scheduled to start in September 2023.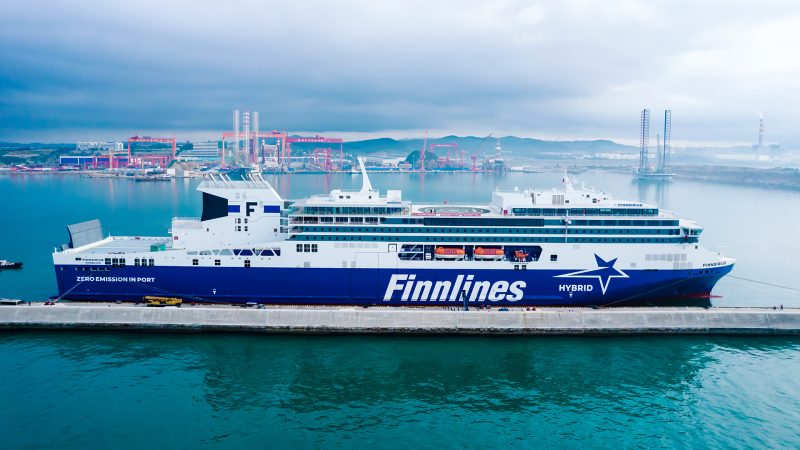 Freight and passenger shipping company Finnlines will make major investments in its route between Finland, Åland and Sweden during 2023, by introducing two new Superstar freight-passenger vessels.
The first hybrid ro-pax vessel, whose construction started in June 2021, was delivered to Finnlines on 18 July 2023. Finnsirius will start operating on the Naantali–Långnäs–Kapellskär route in September 2023. The second vessel, Finncanopus, is expected to be delivered by the end of 2023. The two ships are the largest ro-pax vessels in the Finnlines fleet. The cargo capacity will increase by nearly 24 per cent to 5,200 lane metres and passenger capacity will double from today's 554 to 1,100.
The new ro-pax vessels are part of Finnlines EUR 500-million Green Newbuilding Programme, which comprises both ro-pax and ro-ro vessels, all equipped with state-of-the-art sustainable solutions. Three new hybrid ro-ro vessels started operating in summer 2022.
"Finnlines' Green Newbuilding Programme has been a massive investment which will benefit our freight customers and private passengers. These hybrid ro-pax vessels are not only the largest in the company fleet so far, but they transport cargo in a more sustainable manner. For example, the vessels have been equipped with enormous high-powered battery banks and onshore power supply in order to have zero emissions while at port. In addition, port operations will also be more efficient with auto-mooring. Smooth freight traffic in the Baltic Sea is the backbone of the region's economies and national security of supply. For example, around 90 per cent of both Finnish and Swedish exports and imports are carried along shipping routes. Finnlines combines cargo with passenger traffic in this Naantali–Långnäs–Kapellskär route, and therefore our investment will strengthen services to our freight customers as well as to our passengers," says Tom Pippingsköld, President and CEO of Finnlines.
"Finnlines is proud to introduce the first Superstar and Finnsirius will be Finnlines' flagship in both size and technology. As the Superstar ro-pax vessels enter the traffic, we will further increase economies of scale to support new business development and opportunities for our freight customers. In addition, we will be able to offer upgraded services for passengers, including several themed restaurants, a wide range of cabin categories, meeting rooms, a large shop, lounges, to name a few," says Antonio Raimo, Line Manager at Finnlines.
Ship particulars, Finnsirius
Type of vessel: freight-passenger / Ro-pax
Ice class: 1 A Super
Length, overall: 235.6 m
Breadth, moulded: 33.3 m
Gross tonnage: 65,692
Deadweight: 11,980
Lane metres: 5,200
Design speed: 16.3 / 21.0 knots
Engine output: 4 x 7,200 kW
Flag: Finland
Passengers: 1,100
Passenger cabins: 323
Route: Finland–Sweden (Naantali–Långnäs–Kapellskär)
Emission reduction technology
Air lubrication
Battery pack
Exhaust gas abatement
Onshore power
Auto-mooring
Waste heat recovery
Ballast water treatment
Photos
• Photo 1, Finnsirius
• Photo 2, Finnsirius and Finncanopus
More information
Antonio Raimo, Line Manager, Finnlines Plc
antonio.raimo@finnlines.com, +46 707250380
Tom Pippingsköld, President and CEO, Finnlines Plc
tom.pippingskold@finnlines.com, +358 40 519 5041
Photo requests and other enquiries
communications@finnlines.com
Finnlines Plc
Finnlines is a leading shipping operator of freight and passenger services in the Baltic Sea, the North Sea and the Bay of Biscay. The company is a part of the Grimaldi Group, one of the world's largest operators of ro-ro vessels and the largest operator of the Motorways of the Sea in Europe for both passengers and freight. This affiliation enables Finnlines to offer liner services to and from several destinations in the Mediterranean, West Africa, Atlantic coast of both North and South America as well as Asia and Australia.