Bringing hybrid vessels to our customers
Finnlines' EUR 500-million newbuilding project reached a historical milestone when all the three Eco class hybrid ro-ro vessels were delivered during the spring and early summer 2022. The first vessel in the series, Finneco I, entered the Biscay–Baltic line in mid-June and at the time this issue goes to press, the two sister vessels will have joined her.
BUILDING A SHIP IS A LONG, TIME-CONSUMING AND EXTREMELY CHALLENGING PROJECT, which starts with preliminary studies, sketches and concept design. Steel cutting, keel-laying and launching are celebrated as mid-term events. The project comes to an end when the ship finally leaves the shipyard and starts to operate commercially. Many parties are involved at different stages, including naval architects, on-site supervisors, equipment and other goods suppliers, financiers, employees at the shipyard, and last but not least crew members who must be well familiar with the ship to sail it safely to home waters.
FINNLINES' ECO CLASS VESSELS ARE NOT ONLY THE LARGEST in the Company fleet so far, but they transport cargo in a more sustainable manner. Solar panels, an air lubrication system, a high-powered battery bank, and efficient main engines with hybrid emission abatement technology are expected to reduce the carbon footprint and other harmful emissions and particles from the vessels considerably more than the older vessels.
ALTHOUGH THE FIRST STAGE OF OUR AMBITIOUS NEWBUILDING PROGRAMME HAS NOW BEEN COMPLETED, there is no time to rest as two Superstar ro-pax vessels are currently being built in China. To face the coming challenges, Finnlines' shore-based organisation has been strengthened with intensive on-site supervision and design, with inhouse IT, marketing and technical expertise in order to lay a good start for the Superstar vessels, Finnsirius and Finncanopus, when they arrive.
The service concept is being finetuned to satisfy our loyal customers and to attract new customer segments. The Superstars will carry cargo and passengers across one of the most beautiful sea routes in the world, which is our Naantali–Långnäs–Kapellskär route, sailing through the magnificent Finnish and Swedish archipelago. All three ports are well connected, but they are not located in congested city centres, which also contributes positively to sustainable development.
We have opted for nearly the same advanced and efficient hybrid concept for the Superstars as we did for the Eco class. For example, on-shore power supply installations are in place in the vessels, which was also warmly welcomed by the ports of Kapellskär and Naantali.
AT THE BEGINNING OF 2022, the outlook for the year was quite bright. The travel business was recovering after several rounds of Covid-19 vaccination. Having been confined to their homes for some two years, people were itching to take off to new destinations. Trailer volumes were increasing, the growth of steel, paper and car shipments forecast a promising future.
However, in February the war in Ukraine changed the geopolitical situation overnight. Consumer and business confidence has been hit to some extent by uncertainty and a surge in inflation, which is mainly due to rocketing energy prices as the EU decided to become independent of Russian energy.
One of Finnlines' strengths is the wide Grimaldi Group network and an ability to switch vessels between the Baltic and Mediterranean. Finnlines can adapt its service levels according to demand. Our hugely flexible fleet can carry a mix of cargoes, we offer regular-as-clockwork services and can squeeze in extra port calls if necessary.
This edition of Finnlines News focuses on the new Eco hybrid ro-ro vessels, but you can also read how introduction of new tonnage has given an opportunity to improve and expand our services on all ro-ro routes. A new service between Ireland and Belgium will be launched. We have not only renewed our fleet, but our top management has also been reinforced when several nominations were announced. As a proof of our adaptable logistics solutions, we report on special cargo, which can hardly be transported by any other means overseas.

WE ARE VERY PROUD THAT WE CAN BRING OUR CUSTOMERS TO HYBRID ERA and our utmost thrive to continuously improve both our operational and economic efficiency ensures that we can continue to grow and invest in our fleet. The profitability of Finnlines Group is going to exceed last year's level due to several years' investments in improving energy efficiency and investing heavily in the fleet, which now allows us to bring benefits of our economies of scale to our customers and lower our environmental footprint.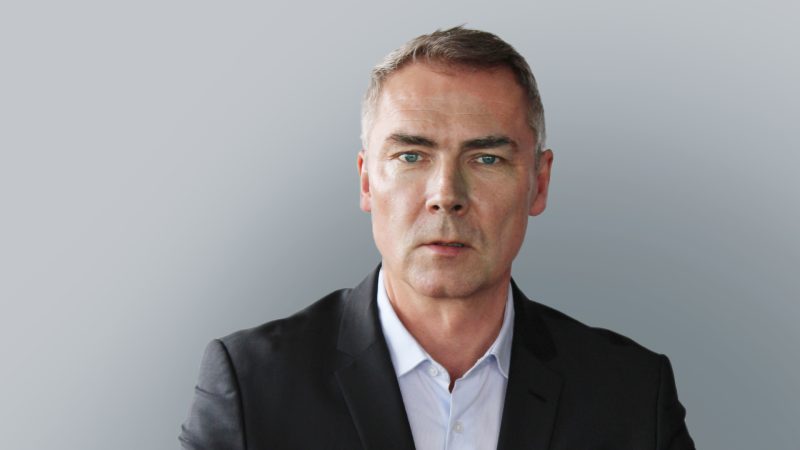 Tom Pippingsköld
President and CEO