The Grimaldi Group – Increasingly global
The Grimaldi Group has transformed from a traditional Italian shipowner to a global market-leading logistics operator and the world's largest carrier of trucks and trailers.
The Grimaldi Group has for decades operated in many parts of the world, including Southern and Northern Europe, North and West Africa and the East coast of America. In 2022, the Group extended its services with modern PCTC vessels (Pure Car&Track Carrier) to the Near and Far East. The Group connects ports such as Shanghai, Tianjin and Guangzhou in China, Singapore, Brisbane in Australia, Chiba in Japan, Busan in South Korea and Dammam and Jeddah in Saudi Arabia to the main Mediterranean and North European ports.
Today, the Group operates 130 vessels and employs 17,000 people. A total of seven shipping companies belong to the Group, one of them is Finnlines.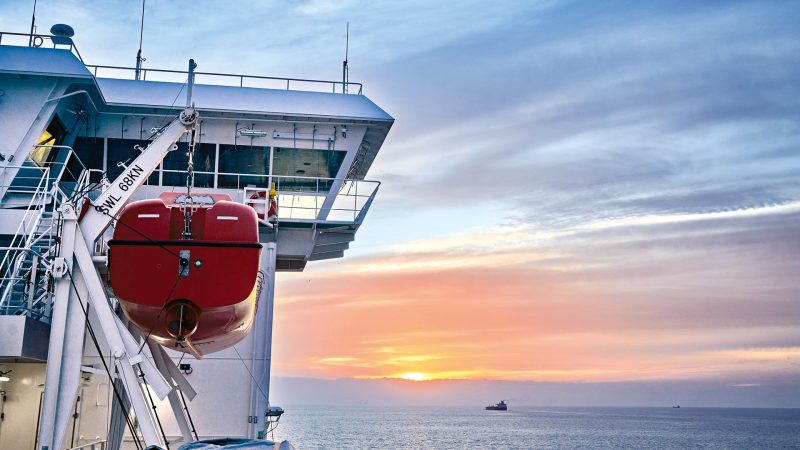 Finnlines – from crisis to success
When the Grimaldi Group saw potential for synergy with Finnlines, the Group decided to acquire the company. However, a global financial crisis hit sea transportation severely in 2009, including Finnlines, but Grimaldi took prompt action to save the company. Corporate structures were simplified, the company management was reorganised and new strategies were launched. The basis was to have an owned tonnage instead of chartering small, but expensive vessels. The weak financial position needed prudent financial management including renegotiating the loans, lengthening the maturity profile of debt and creating stronger and an international bank group.
In a few years' time an upward trend was visible after a turn around programme for improving operational efficiency had been successfully implemented and cash flow started to increase again. Finnlines could invest in new technology in its fleet, invest in environmental equipment, lengthen the existing vessels. Finally, after improved financial and operational efficiency the company was able to order larger state-of-the-art vessels and improve further through the new tonnage and from the economies of scale they provide.

In 2022, it was time for other change as well. Finnlines had become a successful and efficient maritime operator with a modern fleet and is in excellent shape both operationally and financially. I had been acting as the CEO and President since 2013. The Board appointed Tom Pippingsköld, former Deputy CEO and CFO, as my successor in May and elected the undersigned as a Chairman of the Board.
Humanitarian aid to victims of crisis
The prospects for 2022 were bright at the beginning of the year, but in February the geopolitical situation changed overnight after Russia's invasion of Ukraine. As Finnlines and the Grimaldi Group are concerned about the human tragedy, we have provided humanitarian aid to refugees, who have fled the war. Finnlines transported Ukrainians leaving their homeland on its passenger-freight vessels for free. The Grimaldi Group also provided transportation to hundreds of Ukrainian children and families in the Mediterranean, provided accommodation and collected medical supplies.
Trade with Russia was suspended soon after the conflict had started. Finnlines and the Grimaldi Group used to run four services to Russia, from Spain, Belgium, Great Britain and Germany. The four Finnlines-flagged ships were all re-assigned to other intra-EU services.
Russia is an important exporter of fossil fuels and European countries have now confronted an energy crisis when supplies have stopped. Energy prices have rocketed, inflation has accelerated and consumers are watchful and alert. In shipping, economic fluctuations come early, but I am confident that we can face the new challenges as we benefit from a wide global network, advanced sustainable fleet, geographically diversified customer and revenue base.

Forerunner of Green transition
Compliance with environmental regulations and energy transition are our main challenges in the future. The whole Grimaldi Group has invested massively in the sustainability of its fleet during the last decade and has thus managed to reduce its environmental footprint. Grimaldi's and Finnlines' new ships also have capacity to carry more cargo on less fuel than the previous generation.
In shipping today, it is challenging to find zero-carbon fuels in large quantities, in several locations and engine technology with these fuels. Whichever option is chosen, it must be safe, reliable, maintenance proof, in compliance with national and international regulations and economically viable for the shipowner.
"Shipping is part of the climate solution."
Each country is still dependent their power generation partly on fossil fuels to produce electricity and those fuels are needed in order to gradually shift to greener technologies and fuels. The same prevails in shipping where all types of engines and fuels are still needed in order to enable a similar, gradual shift to more environmentally friendly fuels and engine technology, when they become available. Our Group has therefore chosen to rely on an energy and technology mix, which consists of solar panels, air lubrication under the hull, high-powered battery packs and modern diesel engine technology, which mix together results much lower CO2 footprint. All the Grimaldi Group's most recent newbuilding orders include an ammonia ready concept. Ammonia is a zero CO2 emission type of fuel.
After all, shipping is part of the climate solution. In 2022, Finnlines entered a hybrid era with its new vessels and freight services improved greatly, in 2023 passenger services will also rise to a new level.
Finally, I want to express my gratitude to our numerous customers and other stakeholders, who have trusted us. The Finnlines sea-going and ashore personnel have been committed to providing safe and reliable seaborne services – a special thanks to you all.
Emanuele Grimaldi, Chairman of the Board