At Work – Three Greetings from Finnsirius
The ship is loaded with cars, Finnlines folks, and a can-do attitude. In this post, we share three greetings from Yantai, where Finnsirius is now loaded – and from where the first of the star sisters is ready to embark on its journey towards Europe.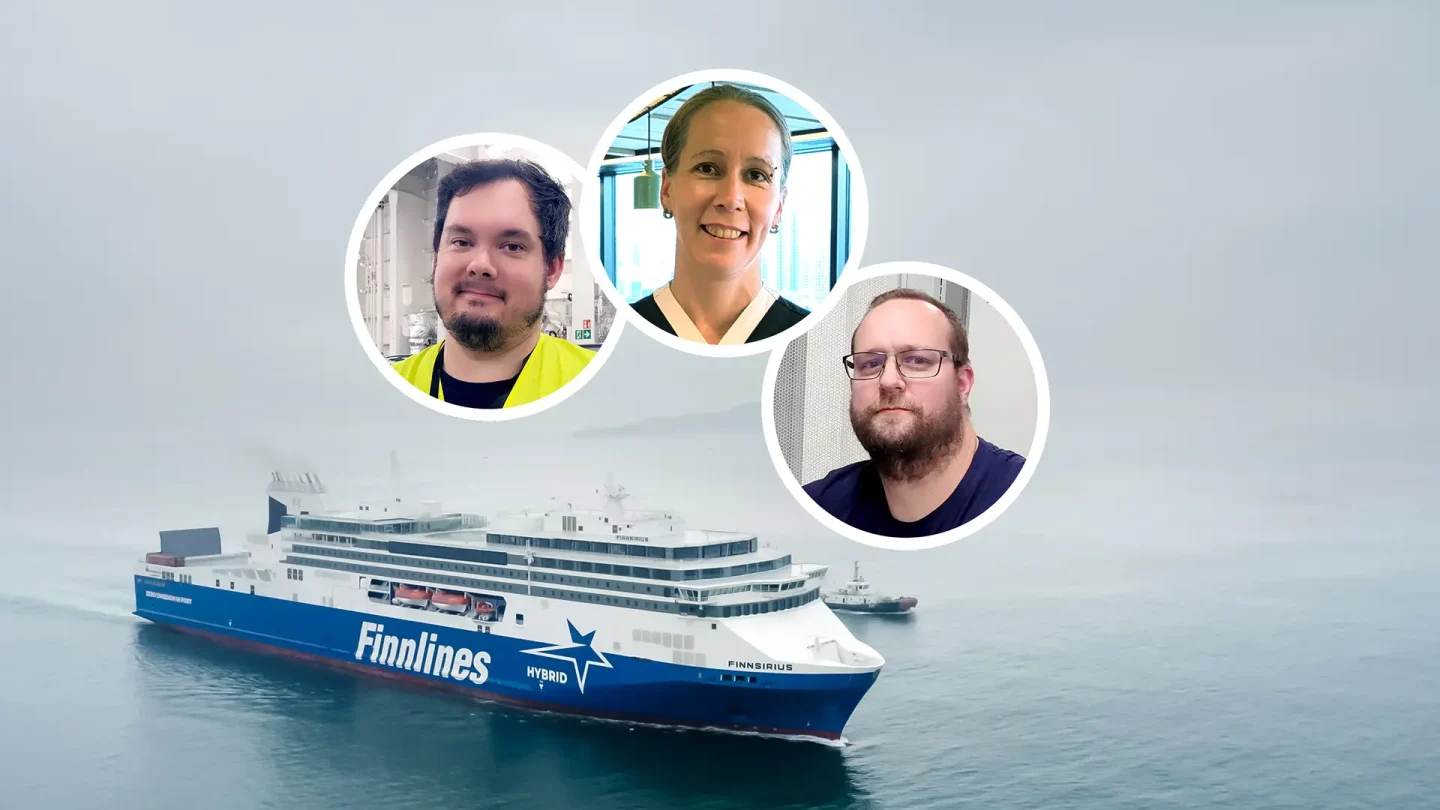 Finnsirius is a cargo-passenger ship capable of transporting over five kilometers of rolling cargo. Driving such an impressive vessel empty wouldn't make sense, so Finnsirius has already sprung into action as its car decks have been filled with cargo. Besides the car decks, there is plenty of work in other sections as it faces a forty-day journey to Finland. Despite their busy schedules, we had the chance to interview Heikki, Jonna, and Tommi, the dedicated crew members working aboard Finnsirius.
Meet Heikki Teittinen: The Skilled Second Mate of Finnsirius
On Finnsirius's third deck, there's a buzz of activity as new European-bound cars are loaded onboard. Amidst the hustle, we meet Heikki Teittinen, the ship's second mate, donning a yellow vest. With a decade of experience at Finnlines, Heikki recently celebrated his ten years of service. Previously, he worked as a boatswain and mate, and before that, he served in the Finnish defense forces.
"I've been operating on the Helsinki-Travemünde route for ten years, so I'm excited about the transition to the Naantali-Långnäs-Kapellskär route, where much will be new to me. Variety is refreshing, and a change in the ship's dynamics is truly invigorating," says Heikki.
So, what are your responsibilities on Finnsirius?
"Currently, I'm in charge of the ship's navigation equipment, some IT systems, route planning, and the ship's infirmary."
And right now, Heikki is busy on the car deck. Any thoughts on loading the ship?
"Loading a new vessel is a learning process for everyone. The quantity, quality, and ports of cargo can change rapidly, providing plenty to think about and challenging us. Making the right decisions based on the information at hand is essential. Safety always comes first when dealing with cargo, so coordinating everything requires strong teamwork."
What do you look forward to in your work once the actual operations start from Naantali?
"I'm looking forward to new challenges, learning opportunities, getting to know new colleagues, and of course, seeing the passengers' expressions when they step aboard the new vessel."
"I look forward to the passengers' expressions when they step aboard the new vessel."

Heikki Teittinen, Finnsirius' 2nd Mate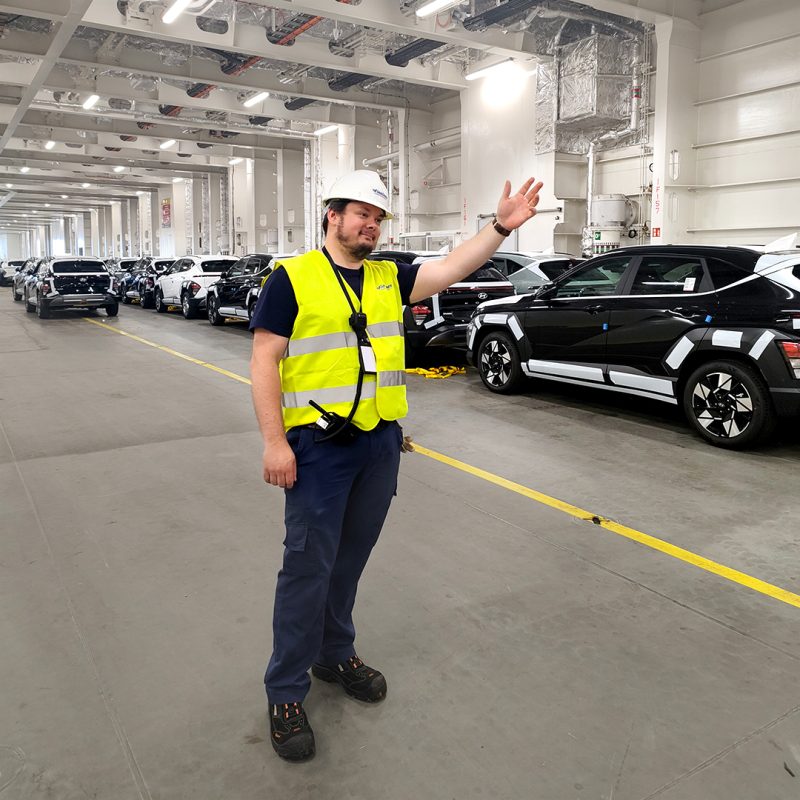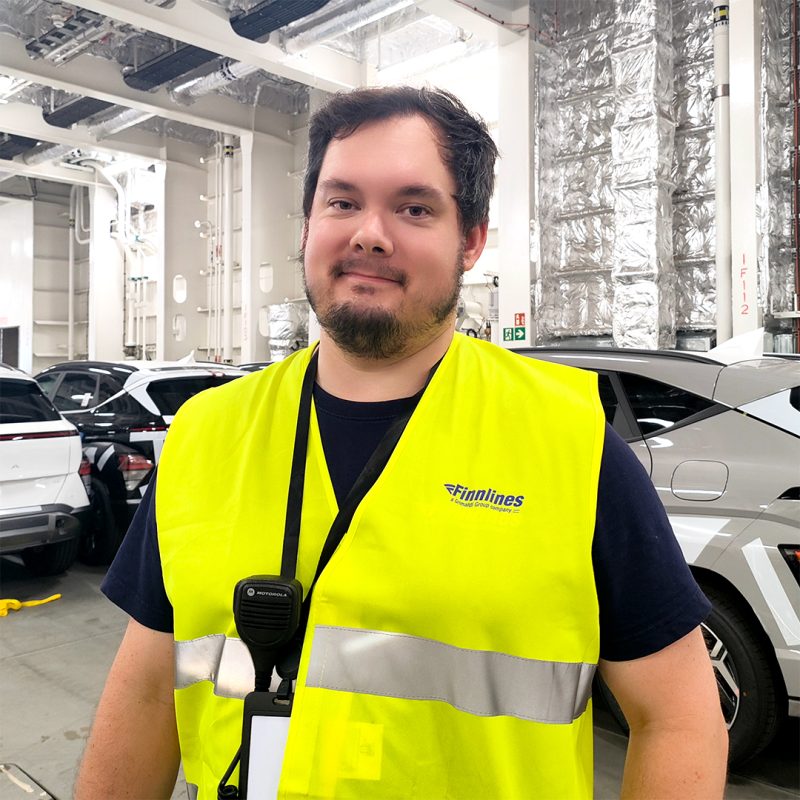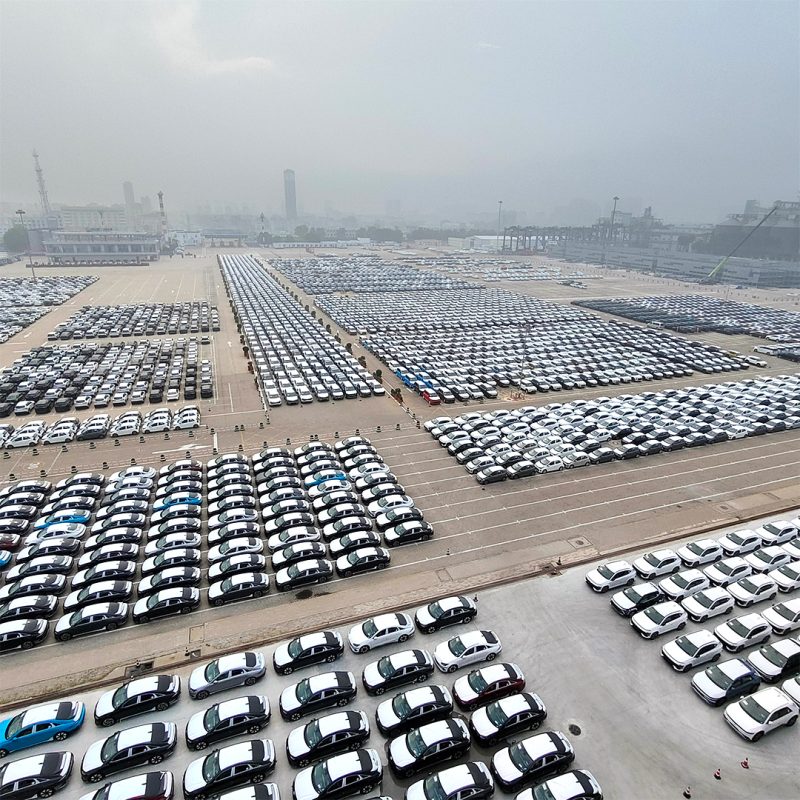 Tommi Hyvönen Takes Care of Servers and Networks
We meet System Analyst Tommi Hyvönen in the server room of Finnsirius, where telecommunication cables crisscross and server fans hum. Tommi Hyvönen ensures that all communication-dependent systems on Finnsirius run smoothly.
How long have you been working at Finnlines?
"Nearly two years, most of which have been spent with the new ships. Before the Superstar project, I worked with Finneco roro vessels."
And what do you do now on the Superstars?
"I have been coordinating the design, orders, deliveries of equipment, and overseeing installations at the shipyard. I have also set up servers and switches on board. Fortunately, I haven't had to do everything myself; other members of the IT infrastructure team and reinforcements from Sweden have participated in the installations."
What do you think is the best thing about Finnsirius or the Superstars?
"There has been a strong focus on investing in the new ships, providing something new for passengers. Naturally, the new ships look fantastic. I have been heavily involved with them, and you could call them a second home."
"Onboard Finnsirius, you experience the sensation of being on a cutting-edge vessel, featuring openness, expansive windows, and a vibrant atmosphere. Unfortunately, due to work, I haven't had much time to sit and admire the scenery, but that time will surely come someday."
So, you've spent some time at the shipyard. What stands out from that experience?
"While at the shipyard in Weihai, the people on-site were always cheerful and smiling, which made me smile too, despite occasional setbacks. It has been fantastic to be involved right from the start and to get to know Finnlines' operations, first in the roro freight traffic and now with the ropax vessel in passenger traffic. At the same time, you get to know colleagues whom you rarely see, but their needs must be considered when designing systems."
"Onboard Finnsirius, you experience the sensation of being on a cutting-edge vessel."

Tommi Hyvönen, System Analyst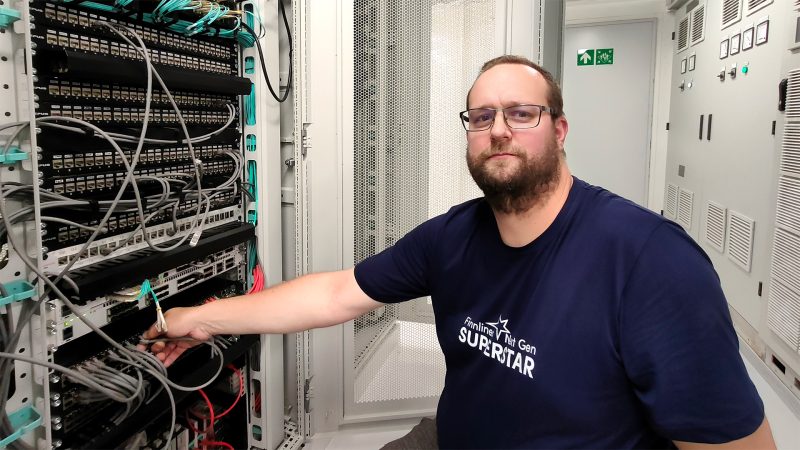 Jonna Nikanto is already looking forward to the passengers
On Finnsirius' arcade, a smiling woman in a stylish black and white outfit, adorned with the familiar Superstar star logo from the ship's side, walks towards us. Let's pause for a moment.
Excuse me, who are you?
"I'm Jonna Nikanto, an assistant in the hotel and catering department."
What are your responsibilities?
"I'll be ensuring that passengers have a pleasant experience aboard our tidy and beautiful ship throughout the journey. Currently, we're preparing uniforms for the upcoming crew. Together with my colleagues, we're getting the housekeeping department's spaces ready for operation."
What do you think of the new Finnsirius?
"The crew's cabins, mess area, saunas, and gym are AMAZING! At first, I was finding my way around, but little by little, the routes and spaces became familiar almost on the first try. I love the panoramic sea view from the windows. The cozy and lovely crew areas are beautifully designed."
"Finnsirius is truly innovative in terms of technology, logistics, and interior. I still find myself marveling at what a fantastic work environment it is as a whole. I can't wait for the passengers and new colleagues to experience the same. It's beyond words. You have to see and experience it with all your senses!"
What do you find appealing about working at sea?
"While working on land, I began to appreciate the travel aspect, new experiences, and a willingness to try new things. The sea is the most soul-nurturing environment for me. Being at sea allows for smoothly taking on various new job tasks."
"Finnsirius is advanced in many ways. It's indescribable; you have to see and experience it firsthand with all your senses!"

Jonna Nikanto, steward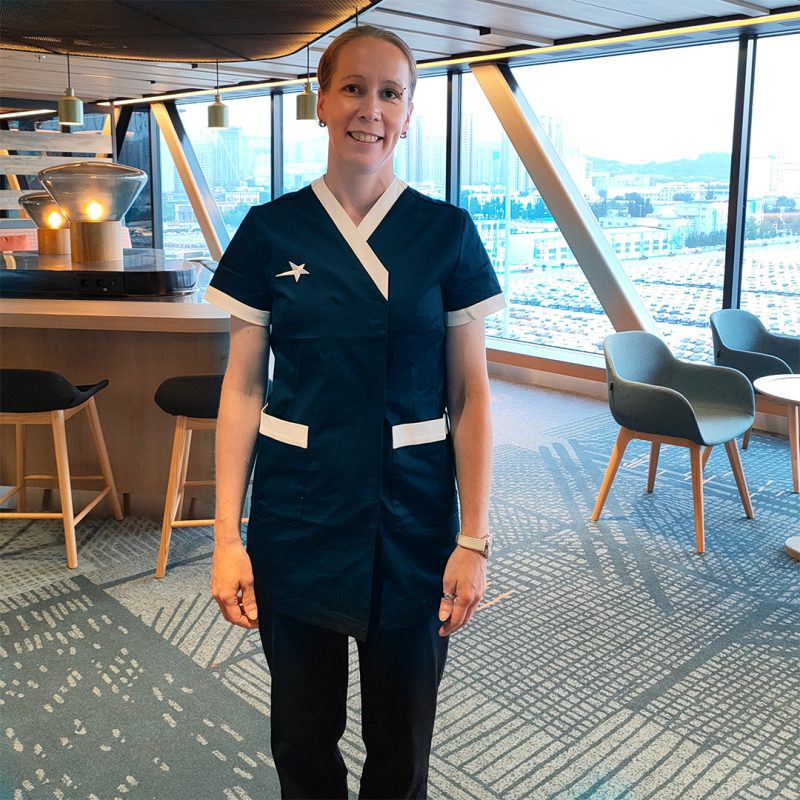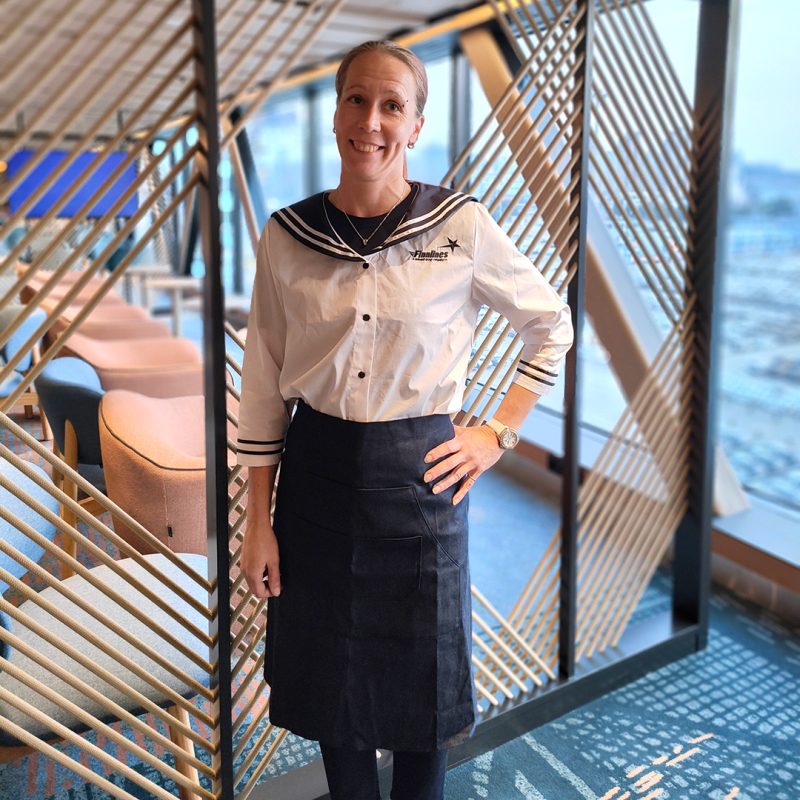 On a fully-loaded ship, heading south
The Superstar vessel is now loaded with real cargo for the first time. Once Finnsirius departs from Yantai's dock, there are no plans to return to China. Ahead lies a few days of sea voyage on the East China Sea. Shanghai will be bypassed, and the journey will continue past Taiwan into the South China Sea. The next stop is Singapore.