Positioning ourselves for future success
The financial year 2021 was challenging for Finnlines. While the freight operations recovered well during the second quarter, the passenger business continued to face challenges due to constantly changing travel restrictions. In addition the State aid was continued and distributed among our competitors, which distorted the market functioning and disturbed the competition. A total of EUR 100 million of taxpayers' money has been paid to our competitors since the beginning of 2020 until now, while Finnlines was considered not eligible for the aid.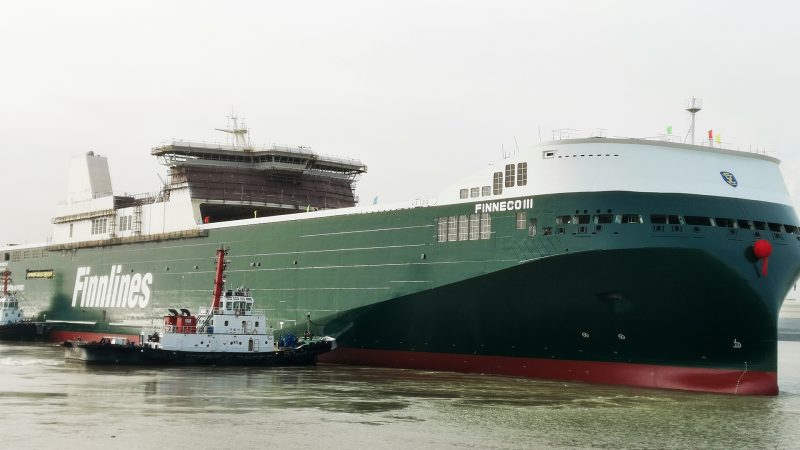 From the Finnish perspective, Finnlines carries more than a third of the one million rubber-tyred units that pass each year through three main sea bridges to Estonia, Sweden and Germany. Practically Finnlines connects Finland to Europe. High frequency traffic between Finland and Sweden, Continental Europe, Russia and Britain is the foundation of Finnlines' operations. The State aid was supposed to be targeted for shipping companies maintaining the rubber-tyred traffic to and from Finland in order to secure Finland's emergency security of supply. Therefore, it has been extremely hard to understand why Finnlines, being the largest shipping company, and taking care of Finland's emergency security of supply to greatest extent, did not receive this aid.
Based on the data by Statistics Finland, Finnish seaborne volumes carried in container, lorry and trailer units increased in 2021. Imports increased by 5%, totalling 10.1 million tonnes and exports increased by 3%, totalling 15.4 million tonnes.
During the first quarter of 2021, Finnlines' turnover declined compared with the previous year, but when cargo volumes started to grow during the spring, an upward trend continued throughout the year. The growth was substantial although industries suffered from shortage of components and road haulage from shortage of drivers. Moreover, the automotive industry had a longer summer stoppage than anticipated and train drivers' strike in Germany affected cargo transportation on the Sweden–Germany route. However, Finnlines could move vessels from routes with temporarily declining demand to others where larger capacity was needed.
Finnlines Group's turnover was EUR 579.9 (484.0) million in the reporting period, an increase of around 20% compared to the same period in 2020. Result before interest, taxes, depreciation and amortisation (EBITDA) was EUR 160.3 (140.8) million, an increase of 14%. Finnlines achieved despite passenger challenges and unfairly distributed state-aid good result for the period, which was EUR 74.7 (69.7) million. We are more than satisfied with our performance, considering that we had to compete without receiving the State aid from Traficom.
When travel restrictions were gradually eased after months of lockdown, the Finnlines passenger business recovered quickly although passenger numbers remained below the normal level. The shore organisation was also strengthened to get prepared for the next level of travel experience, which the new Superstar vessels will offer. Finnlines' long-term work on sustainability was recognised by Visit Finland, which awarded the Company the Sustainable Travel Finland label. The long-lasting Covid-19 pandemic has put pressure on our seafarers. The sea- and shore-based personnel have all navigated well throughout the pandemic.
In April 2021, Finnlines strengthened its presence in Vuosaari by buying the largest office building and passenger terminal in the harbour area in order to secure long-term premises to its personnel. Vuosaari Harbour in Helsinki is a key location with its modern and advanced infrastructure and it is the home port of Finnlines.
Finnlines has always been committed to upgrade its services to meet customers' needs and expectations and to making adjustments to its traffic when necessary. Finland is dependent on its maritime connections. Flexibility and competitiveness of sea transportation is particularly important for the country, and critical for Finland's security of supply. Finnlines, being the market leader in rubber-tyred maritime traffic in the Baltic Sea area, is able to provide sustainable sea transportation cost-efficiently and on market terms.
While the global shortage of containers on the one hand, and the widely reported shortage of drivers on the other, challenged importers and exporters and led to worldwide supply-chain disruptions, shortsea operators could continue to provide reliable and competitive services. The number of trailers has increased steadily and Finnlines has carried accompanied and unaccompanied units uninterruptedly throughout the Covid-19 pandemic, offering around 170 departures each week. To live up to customers' expectations, both freight and passenger capacity was increased on the Finland–Sweden and Sweden–Germany routes in early 2022.
"After decades of containerisation, we are today witnessing trailerisation. While
the global shortage of containers has challenged importers and exporters and
led to world-wide supply-chain disruptions, ro-ro vessels have proved to be
efficient and competitive modes of transport."
Finnlines has made substantial investments in environmental technology and in its fleet renewal, but new challenges lie ahead. Both globally and within the European Union, numerous proposals are being discussed. The European Commission intends to reduce greenhouse gas emissions by at least 55% by 2030, compared to 1990 levels. Previously, IMO has set the minimum reduction target of 50%, compared to 2008. The EU Commission has also proposed to include maritime transport in the emissions trading system, which has covered energy-intensive industries and flights within EU for nearly two decades. Furthermore, the planned FuelEU Maritime Initiative will set a maximum limit on the greenhouse gas content of energy used by ships. The EU Taxonomy Regulation directive aims to promote clean technologies and discourage the use of fossil fuels. The carbon levy, i.e. a tax, which the International Chamber of Shipping has put forward in September 2021, is intended to expedite the creation of a market that makes zero-emission shipping viable. To reach the ambitious goal of becoming carbon neutral, it may be necessary to modify existing ships with new tanks and engines so that they can run on new types of fuel. However, at current rates of production, zero-carbon fuels are not commercially available at the scale needed for the global fleet.
Today, Finnlines concentrates on new battery technology, air lubrication and solar panels on its newbuilds. Several existing ro-pax ships will be equipped to use onshore power where available. Moreover, gradual transition to carbon-free, renewable fuels is being investigated. Ships spend many idle hours in ports waiting for cargo, loading and unloading. During 2021, we implemented actions to reduce the time our largest ships on our main service Hansalink stay in port to allow more slow steaming to save fuel and reduce air and water pollution. Digitalisation is the key to cut the turnover time and allow slower speed at sea. Seamless flow of information and optimisation of the whole transport chain increases the efficiency and cost benefits of logistics and also reduces the climate impacts of transport. Finnlines has developed digital applications to steer goods and passenger flows. As an example, in 2021, Finnlines introduced a new service which informs drivers when and where discharged trailers are located in the harbour area.
The construction of three hybrid ro-ro vessels and two eco-efficient ro-pax vessels has progressed well. A series of the new "Eco-ships", many of which already operate in the parent company's, in Grimaldi Group's, traffic, have proved to be excellent carriers with more capacity for cargo but lower energy consumption than vessels of the previous generation. Finnlines' Investment Programme comprises a total of five new vessels, which are all hybrid and state-of-the-art vessels from the environmental point of view. The vessels will be equipped with battery banks, air lubrication systems, and exhaust gas cleaning equipment. Furthermore, the ro-ro vessels will have solar panels and ro-pax vessels will be fitted with an on-shore connection. When at berth, the vessels achieve zero emissions.
Finnlines is a future-ready company with its diversified fleet. We can carry all types of cargo and our commercial and private passengers appreciate the peaceful sea crossing and upgraded facilities on our versatile ships, but profitability is the key to ensuring that the well-being of employees and working conditions can be promoted beyond national and international rules and regulations. Technological advancements bring new challenges and world is getting more complex. Moreover, profitability enables sustainability and strategic positioning for the future. Finnlines has adopted a green path in its strategy already several years ago when decisions were made on a EUR 0.5 billion Green Newbuilding Programme. We have steered investments to sustainability and this is only possible through financially sound and cost efficient operations and through prudent financial management.
I would like to take the opportunity to thank all our customers and stakeholders for showing confidence in Finnlines.
We have a skilled and competent personnel and excellent fleet to respond to environmental requirements and more stringent regulations not only at Finnlines but throughout the Grimaldi Group. Therefore, we are investing over EUR 0.5 billion to support our customers to grow in a sustainable way in the future with our modern, efficient and environmental-friendly fleet.
Emanuele Grimaldi