Finnlines carries riders and horses to Helsinki International Horse Show
Finnlines Plc, Press release, Helsinki, 20 October 2023
The Helsinki International Horse Show gathers worlds' best riders and most fantastic horses in Finland. Many of the horses arrive on Finnlines' ships as Finnlines is a Golden Partner and a HIHS' Official Carrier for the event.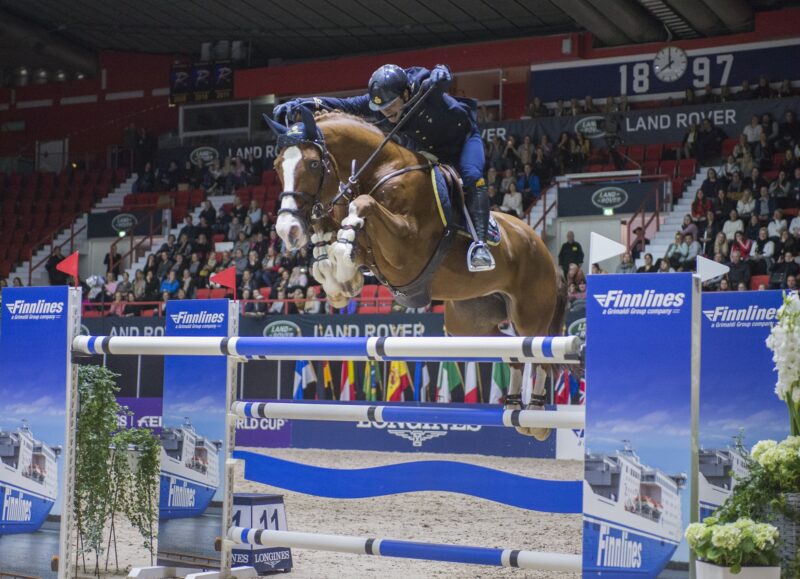 Hundreds of horses travel on Finnlines' Helsinki–Travemünde and Naantali–Kapellskär routes every year, and Finnlines is an Official Carrier for the Helsinki International Horse Show. The transport of horses by sea must be planned carefully to ensure that the horses will keep fit. These horses are not only top competitors, but also worth of enormous amount of money. Finnlines' long experience is an asset especially when these type of horses are transported.
Helsinki International Horse Show is an annual event that brings the world's top riders to Helsinki. The show kicked off on 18 October when future stars competed and the Grande Finale of the event will close the shows on Super Sunday 22 October with Longines FEI Jumping World Cup™ 160 cm at 14.00 hours.
Finnlines Plc
Finnlines is a leading shipping operator of freight and passenger services in the Baltic Sea, the North Sea and the Bay of Biscay. The company is a part of the Grimaldi Group, one of the world's largest operators of ro-ro vessels and the largest operator of the Motorways of the Sea in Europe for both passengers and freight. This affiliation enables Finnlines to offer liner services to and from several destinations in the Mediterranean, West Africa, Atlantic coast of both North and South America as well as Asia and Australia.