Europalink is back in Malmö and flying the Swedish flag
Finnlines Plc, Press release, Malmö, 18 September 2023
The classic Malmö ferry M/S Europalink has returned to Malmö and rejoined the Swedish flag, which is important not least for Swedish security of supply in the event of a crisis. The reflagging ceremony was carried out on 18 September 2023 by Finnlines Ship Management AB's CEO Thomas Doepel, Finnlines' Line Manager Antonio Raimo, the Ship's Master Jan Isberg and the Chair of the Regional Executive Committee in Skåne Carl Johan Sonesson.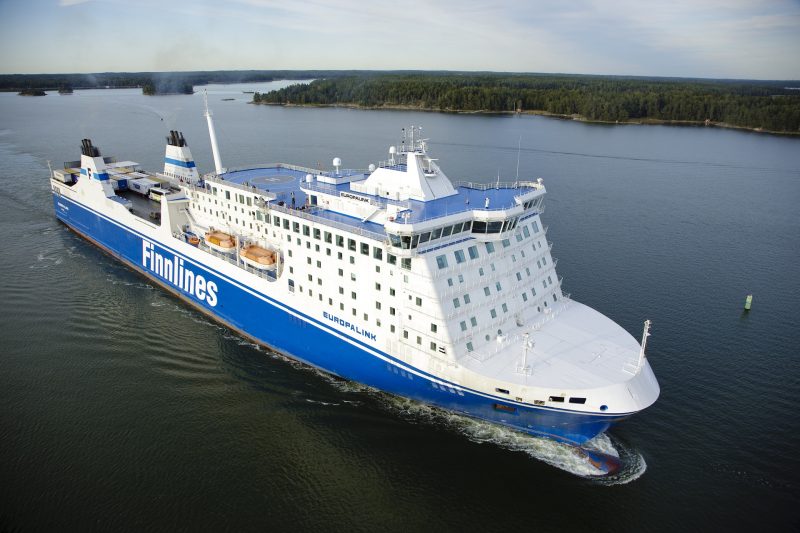 The ro-pax ferry Europalink holds a special place in the hearts of Malmö's residents due to its long history in the city. In recent years, Europalink has sailed on Finnlines' route between Kapellskär outside Stockholm, Långnäs on Åland and Naantali in Finland, flying the Finnish flag. Now however, the ship has returned to the route between Malmö and Travemünde in Germany. And on 18 September, the Finnish flag was replaced with a Swedish, meaning that Europalink is once again part of the Swedish merchant fleet.
"We are thrilled to bring Europalink down to Malmö again and of course under the Swedish flag. We are currently focusing on increasing the capacity on our route between Sweden and Germany, for both freight customers and passengers. Finnlines' core business has always been freight transport, but we are also introducing new service concepts for passengers on our various routes. The route between Naantali in Finland and Kapellskär outside Stockholm has been first in line, but we now also want to upgrade the line between Malmö and Travemünde", says Antonio Raimo, Line Manager, Finnlines.
"Our strive is always to be a local shipping company, although we are a big corporate group. By flying the Swedish flag, we are ensuring that we can hire competent staff. We are counting on approximately 100 employment opportunities in total", says Thomas Doepel, CEO, Finnlines Ship Management AB.
"I'd like to extend a warm welcome to Europalink, returning to Malmö and Skåne, and I have been happy to help reflagging her today. Sweden has relatively few merchant ships in its national Ship Registry, compared to the other Nordic countries. This makes it more difficult to maintain our security of supply in the event of a crisis. It is therefore very positive that Finnlines is taking responsibility to ensure that all vessels on their route between Malmö and Germany fly the Swedish flag", says Carl Johan Sonesson, the Chair of the Regional Executive Committee in Skåne.
Europalink was built in 2007 by the Italian shipyard Fincantieri and has since then made various calls to Sweden, Germany, Finland, Poland, Italy and Greece. However, Europalink has a very special relationship with Malmö, as the Malmö–Travemünde route marked the vessel's inaugural deployment from 2007 to 2009. Europalink has since then returned to Malmö between 2018 and 2021. Finnlines' other vessels on the Malmö-Travemünde route are currently M/S Finntrader, M/S Finnpartner and M/S Finnfellow.
Ship particulars, M/S Europalink
Type of vessel: Ro-pax
Built: 2007
Length, overall: 218 m
Breadth, moulded: 30.5 m
Gross tonnage: 46,124
Deadweight: 8,757
Lane metres: 4,200
Cabin beds: 554
Speed: 24 knots
More information:
Antonio Raimo, Line Manager, Finnlines Plc
antonio.raimo@finnlines.com, +46 707250380
Thomas Doepel, CEO Finnlines Ship Management AB
thomas.doepel@finnlines.com, +358 505654273
Photo requests and other enquiries:
communications@finnlines.com
Finnlines Plc
Finnlines is a leading shipping operator of freight and passenger services in the Baltic Sea, the North Sea and the Bay of Biscay. The company is a part of the Grimaldi Group, one of the world's largest operators of ro-ro vessels and the largest operator of the Motorways of the Sea in Europe for both passengers and freight. This affiliation enables Finnlines to offer liner services to and from several destinations in the Mediterranean, West Africa, Atlantic coast of both North and South America as well as Asia and Australia.