Superstar Master appointments – Finnsirius and Finncanopus
The Finnlines Senior Officers' Nomination Group has appointed Masters to be in charge of the new Superstar vessels.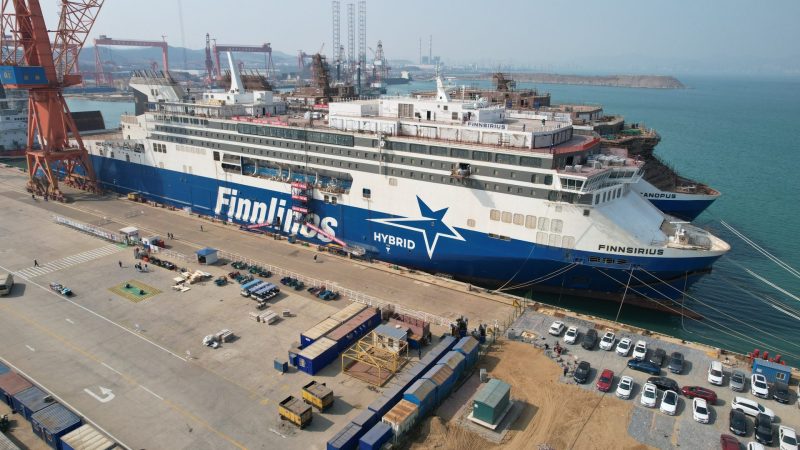 Finnsirius
Mathias Fröberg joined Finnlines in 2012 and he has shown excellent skills in working with the crew and many stakeholders. He has excelled in leadership, manoeuvring and navigation combined with a safety- oriented mindset and an understanding of customer satisfaction and environmental concerns. Mathias is currently working as a Master on the ro-pax vessel Finnswan.
Timo Dahlberg complements Mathias with his over 15 years of experience of working onboard various Finnlines ro- pax vessels. Furthermore, he has gained valuable experience as a newbuilding supervisor for the Star-class vessels in Italy in 2005–2007. He is currently sailing as a Master on the ro-pax vessel Europalink.
Johnny Forss was appointed as alternating Master/Linepilot for Finnsirius. Johnny's experience as a linepilot on the Naantali–Långnäs–Kapellskär line combined with sailing as a Master on the ro-ro vessel Finneco II, the largest in the Finnlines fleet in terms of tonnage and cargo capacity, will contribute to building up a superior team, which will create the best experience for our customers during every voyage.
Finncanopus
Ilkka Maunula graduated as a Master Mariner from the Turku Navigation Institute in 1995 and has 20 years of work experience on passenger ships. Since 2013 Ilkka has sailed as a Master on Finnlines' ro-pax vessels. Ilkka is well respected by his colleagues onboard. He is currently working as a Master onboard Finnswan.
Stefan Karell comes from Viking Line where has worked as a Senior Master onboard Isabella, Amorella, Gabriella and Mariella. Stefan has a deep understanding of the passenger ferry business and shares our common view of a Master's role and responsibility onboard as well as the importance of co-operation with other stakeholders. He emphasizes the importance of motivating the ship's crew to do their best to serve our clients, underlining that the deck and engine crew must also work having these thoughts in mind.
Niklas Lindroos was appointed as alternating Master/Linepilot for Finnsirius. Niklas joined Finnlines in 2018 and has shown excellent skills in working as a Chief Officer and Linepilot. He has proven to be a true team player and was highly recommended for this positon. Niklas is currently working as a Linepilot on Finnswan.
Important nominations
"We are thrilled to strengthen our Superstar team with these important nominations, and I am extremely pleased to welcome Stefan Karell onboard Finnlines," says Thomas Doepel, Vice President & Deputy CEO at Finnlines.
"I wish good luck to Mathias, Timo, Johnny, Ilkka, Stefan and Niklas in their new roles. Expectations are high but I have no doubt that these masters have all the knowledge and skills that are required to build up a top crew team and deliver excellent services on our new ships," says Jan Laurell, Head of Group HR at Finnlines.