Small or large – ports move goods and people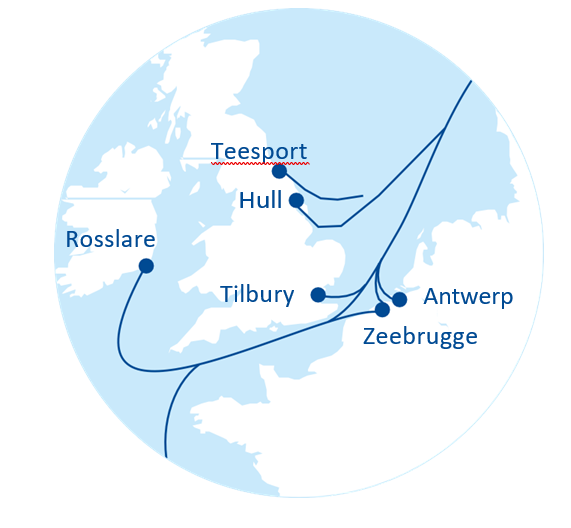 Zeebrügge – Growth at a rapid pace
The Port of Zeebrügge, which used to be referred to as the Port of Bruges or Bruges Seaport, has a history dating back to the Middle Ages. In modern times, the breakthrough came in the 1960s along with the second maritime revolution: an increase in the scale of ships and the emergence of new techniques to handle unit loads, roll-on/roll-off traffic and containerisation.
A major extension was carried out during 1972–1985 and as a result several major transhipment companies opened terminals in Zeebrügge. The development of the port is facilitated by new connections, capacity expansion, modern terminals, good infrastructure and easy accessibility.
In the spring of 2022, the Port of Antwerp and Port of Zeebrügge merged and became Port of Antwerp-Bruges.
A wide range of freight is handled: trailers, containers, conventional general cargo, 'high & heavy' cargoes, dry and liquid bulk cargoes and natural gas. With an overall throughput of some 290 million tonnes, the Port of Antwerp- Bruges is a critical hub.
Teesport – UK's Northern gateway
Teesport is the only major port in England to handle more exports than imports. With around 26 vessel calls a week, Teesport is the UK's Northern gateway for global shippers. Frequent, direct connections are complemented by monthly arrivals from Japan.
The access to the North Sea is lock-free. Teesport works in direct partnership with all four major UK rail freight operations and to enhance its services, the port has established its own intermodal rail terminal.
The port handles 28 million tonnes per year, including potash and salt, steel products, bulk, project cargoes and forest imports. The port offers container and ro-ro facilities. Moreover, special services support the North Sea oil and gas industry.
The port supports 22,000 jobs.
Rosslare – Direct ro-pax sailings to the Continent
Rosslare Europort is one of Ireland's leading ports and the gateway to Europe for the freight and tourist industries. It is strategically located on the south-east coast of Ireland within a 90-minute driving radius of major cities, such as Dublin, Cork and Limerick.
Rosslare Europort is a ro-ro, ro-pax, offshore and bulk port. Exports comprise mainly of fresh products, food, pharmaceuticals, steel, timber and building supplies, while imports consist of consumer goods, such as clothes, furniture, food, trade vehicles, and electronics.
Rosslare Europort also offers comprehensive services, including mooring, stevedoring and passenger-car check-in.
The port reports to have 56 roundtrip sailings to the UK and 30 roundtrip sailings per week to the Continent. Some 1,700 ships call the port every year. Around 810,000 passengers, 21,500 cars and 515,710 tonnes of freight pass through the port per annum.