Green Investment Programme nearly completed
In 2018, Finnlines launched a Green Investment Programme,
which consists of three ro-ro and two ro-pax vessels. Today, four
vessels have already entered service and the last, Finncanopus, is
scheduled to be delivered at the end of 2023.
Tom Pippingsköld, President and CEO of Finnlines, has been very pleased to welcome the new arrivals. "The Green Investment Programme has been a massive investment of EUR 500 million, but it has and will benefit our freight customers and private passengers. Finnlines can carry more cargo in a more sustainable manner. Smooth and secure marine transportation is crucial for the economies of the Baltic Sea countries and their national security of supply. As an example, around 90 per cent of Finnish and Swedish exports and imports are carried by sea."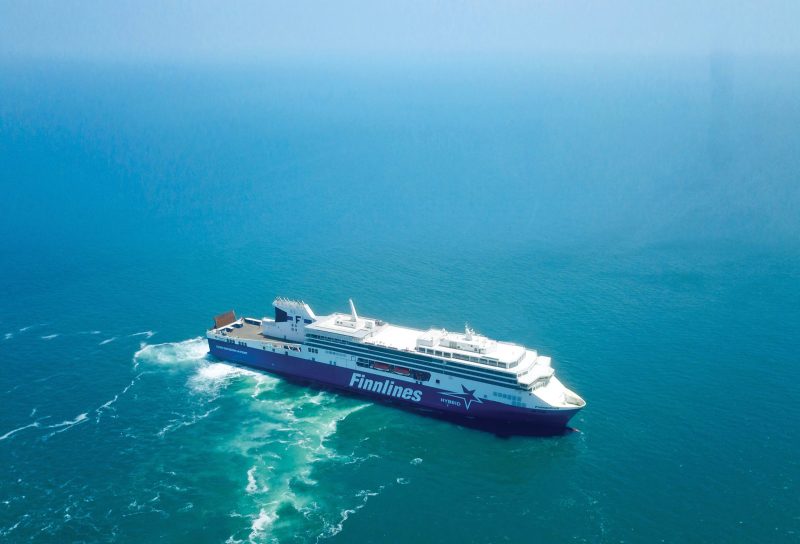 Finnsirius – huge and innovative
Finnsirius sets off for its maiden voyage from Naantali via Långnäs to Kapellskär on 15 September 2023.
The the first Superstar-class vessel in a two-vessel series, Finnsirius, has a length of 235 metres, a beam of 33 metres, a draught of seven metres, and capacity for 1,100 passengers and 5,200 lane metres of freight. The vessel is the largest ro-pax vessel in the Finnlines fleet. Passenger capacity doubles and freight capacity increases by 1,000 lane metres compared to the previous vessels on the route, allowing Finnsirius to carry approximately 200 cars and 300 lorries per voyage. Modern design and technologies together with economies of scale deliver lower emissions per transported unit.

The vessel has the highest ice class 1A Super and it operates under the Finnish flag.
Focus on sustainability
Several state-of-the-art technologies enable Finnsirius to meet high environmental standards. The vessel's route in the sensitive archipelago requires a quite modest speed. This provides a good starting point for environmentally sound traffic and low air emissions. Instead of simply running slowly, Finnsirius has a specifically tailored propulsion system that takes account of low speeds without compromising propulsion efficiency. The route through narrow and shallow archipelago waters sets its own hydrodynamic challenges, and the Finnsirius' hull shape is designed to navigate the fairways with minimum energy consumption and environmental impact in these special conditions.
To improve hydrodynamic performance, Finnsirius is equipped with an air lubrication system that further reduces resistance and the power required to propel the vessel by creating a rigid carpet of micro-bubbles under the bottom of the vessel.

"We are excited to have these features onboard Finnsirius and have
high expectations for fuel economy and reduced air emissions," says Juha Ahia, Finnlines' Project Manager for the Superstar newbuilding.

The ship is equipped with a shore power connection, which is an alternative energy source in the port, meaning zero emissions and lower noise level during port calls. Shore-side electricity also facilitates the charging of lithium-ion batteries, enabling the use of clean shore-side electricity at sea. An auto-mooring system ensures faster mooring, further reducing air emissions.

Other energy-saving technologies onboard Finnsirius include air quality controlled variable speed fans in cargo hold ventilation, waste heat recovery in machinery cooling systems, cold seawater utilisation in air conditioners, air quality controlled air conditioners and lighting control.

To prevent oil pollution, water lubricated stern tubes and environmentally friendly oils are used in bow thrusters, fin stabilisers and cargo access equipment.

Efficient engines with a hybrid concept

Finnsirius has Wärtsilä 46F main engines, thrusters, and a modern hybrid drive system with 5 MWh of energy storage.

The shaft generator system consists of a fully integrated multidrive, which
can also use the shaft generators as motors. The package also includes a power management system, an energy management system for performance optimisation and a bow thruster control. The aim is not only to operate the vessel emission-free on shore power while in port, but also to reduce emissions by using clean shore-side electricity at sea.

"We have Wärtsilä solutions in most of our ships, so we are familiar with the efficiency and reliability they offer," says Ahia.

Layout and design

Onboard, passenger and crew cabins are located on two decks, leaving an open area at the stern for the transport of dangerous goods units. Decks 9 and 10 comprise the cabin areas and the aft of both decks has been reserved for drivers. Drivers' sauna and lounge are on deck 10. Both open to an outdoor terrace.

A total of 323 passenger cabins offer new categories and sizes, ranging from the luxurious sea view suite with a bathtub to spacious family cabins and standard cabins.

Finnsirius passenger facilities consist of seven cafes and restaurants, a sauna and spa area, business and lounge areas, a large duty-free shop and many other facilities. A top chef, Henri Alén, has been involved in the menu design. The Swedish multi-awarded bartender Josephine Sondlo has planned a choice of drinks, which are only available on the new Finnlines vessels.

The crew are accommodated in 64 cabins. The crew facilities are completed with a good-sized gym and sauna as well as a separate mess and dayroom.

The interior design draws inspiration from nature and natural materials, with views of the sea and archipelago playing a key role in the design. Large windows, seating areas and a covered outdoor deck connect the interior with the archipelago views experienced along the voyage. The interior was designed by the leading Finnish interior design studio dSign Vertti Kivi.

Trade route through the Archipelago

Finnsirius will enter Finnlines' Naantali–Långnäs–Kapellskär line connecting Finland, Åland Islands and Sweden. Operational sailings start in September 2023. The sister vessel Finncanopus will be delivered at the end of 2023 and she will enter service on the same route.
Behind a great project

Finnlines' Newbuilding team has worked together with Grimaldi Group's experts to create the most environmentally friendly vessel ever operated in the Baltic Sea. Our experienced shipbuilders Juha Ahia, Project Manager for the Superstar newbuilding, Pasi Väänänen, Technical Superintendent, and Kristiina Uppala, Onboard Concept Development Manager, have ensured that the commonly set targets have been achieved during the design and construction phases.

Juha Ahia shares an insight into the supervision of the project, but he emphasizes that shipbuilding is not a one-man show. Finnlines' in-house knowledge as well as engineering consultants and an interior architect outside the company were involved. On-site supervision has of course played an important and significant role in the implementation of the vessel and in ensuring quality at the shipyard. Finnlines' site team is an international team, with members from Brazil, China, Finland, Italy and Romania.

The list of tasks is always long: to check technical details, approve drawings, suggest changes, select equipment suppliers, and secure the contracted quality. "All in all, I have to keep abreast of the latest developments and how the project proceeds."

Shipbuilding is a collaborative project and in addition to the Weihai shipyard it has engaged many equipment and system suppliers. Several European suppliers, and in particular Finnish suppliers, have been involved in the construction of the state-of-the-art vessel. The share of European suppliers is over 40 per cent The main suppliers include Wärtsilä (main engines, bow thrusters, hybrid drive system), Kongsberg (propulsion and steering gears), Hyundai Himsen (auxiliary engines), Saacke (exhaust and oil fired boilers), Langh Tec (hybrid exhaust gas scrubbers), Auramarine (fuel supply units), Alfa Laval (purifiers and ballast water treatment), Silverstream (air lubrication), MacGregor (cargo access equipment), KONE (elevators), Heinen & Hopmann (air conditioning), Sperry (navigation system), Novenco (cargo hold ventilation), Consilium (fire detection), Marioff (fire extinguishing), and R&M (interior TK) and many others.