Setting a new standard for cargo and passenger transports in the Baltic Sea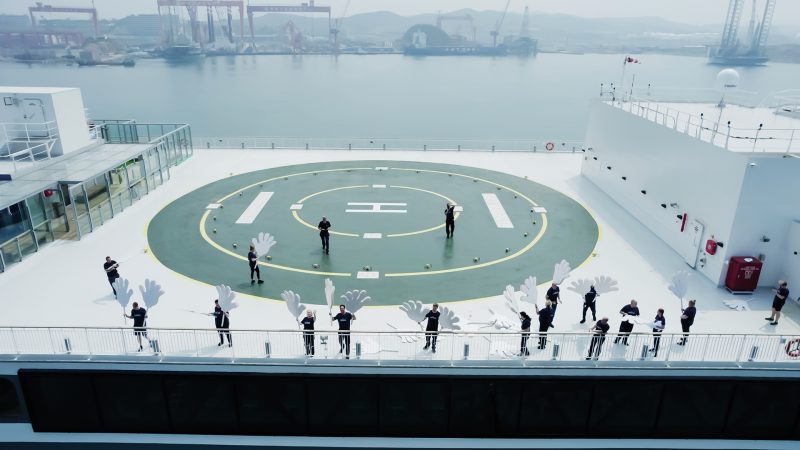 The arrival of M/S Finnsirius to the Baltic Sea took place less than two weeks ago when I am writing this editorial. The close to 12,500 nautical miles journey from China to Europe proceeded as planned, despite facing severe weather conditions near Taiwan and some technical challenges. The vessel was turned into a car carrier on her transfer voyage, carrying over 1,000 cars bound for Europe onboard when sailing from China. During her stop in Gioia Tauro, Italy, the cars were discharged and transhipped while Finnsirius loaded again some 800 special vans to Antwerp, Belgium. During her stop in Gioia Tauro, over 30 more crew members and colleagues joined the vessel to familiarise themselves with her and to ensure that the vessel would be ready for the traffic start with less than a week preparation time after arriving to Naantali, Finland.
M/S FINNSIRIUS, the first of Finnlines two new Superstar ro-pax vessels, was delivered on 18 July 2023. Personally, I think that this is a remarkable achievement, considering that the delivery of Finnsirius took place only 2.5 weeks later than originally anticipated in the Shipbuilding contract, signed almost 3.5 years ago!

Whilst our newbuilding department has been in charge of the Superstar ro-pax project for the past four years, managing everything from preliminary studies, sketches and concept design to supervising and testing that everything is built as planned and agreed, the real test for Finnlines Ship Management is just to begin.

All the preparatory work done, including but not limited to new customer service concepts, IT solutions, innovative upgrades in ship-shore interfaces, everything is now put to the real test. While building a ship is a long, time-consuming and extremely challenging project, taking a newbuilding into traffic is quite different, to say the least. The transfer crew had less than a week after delivery to get ready for loading cars from China to Europe and once Finnsirius arrived in the Baltic Sea, the ordinary crew had again less than a week to prepare her for Naantali–Långnäs–Kapellskär traffic. Within that time frame, the crew must not only get familiarised with the vessel but also ensure that all cabins, cargo decks, public areas, shops, restaurants and other facilities are ready to meet and hopefully even exceed our customers' expectations.

FINNLINES VISION for setting a new standard for cargo and passenger sea transport in the Baltic Sea is very ambitious and no doubt a challenge for us. We are not only launching several new service concepts, such as archipelago cruises and shuttle services for foot passengers, but also implementing new technologies onboard that are becoming more complex than ever to manage for the crew.

With new solutions, such as auto-mooring and shore power connections, the integration between the ship and shore side deepens and involved parties must develop new routines to manage daily operational tasks. Ship Management's role is inevitably changing, often acting as a representative of the charterer (i.e. the Line) and providing advisory services on how to operate in the most environmentally efficient way.

Whilst in the past Ship Management was required to deliver high reliability, low operational costs and high-quality crew, expectations have increased. Improved transparency and good communication skills are today self-evident but, driven by big data, Business Intelligence and IoT, we shall also be able to implement predictive maintenance and advisory services and drive fleet performance improvement. Hence, best practices from our new Superstar project will be disseminated to gain other parts of our fleet.
The arrival of Finnsirius will not only improve our Finland–Sweden service, but also other ro-pax services in the Baltic.
THIS AUTUMN WILL BE REVOLUTIONARY for our ro-pax services. The deployment of Finnsirius and Finncanopus will not only improve our Finland–Sweden service but also enable a cascade of improvements elsewhere in our ro-pax services in the Baltic Sea. Our Malmö–Travemünde line will enjoy improved tonnage and capacity and Finnlines importance for the Swedish security of supply will further grow with the intended start of our new Sweden–Poland ro-pax service. These development steps had never been possible without the arrival of our new Superstar ro-pax ships.

THIS EDITION OF FINNLINES NEWS focuses on the arrival of M/S Finnsirius without forgetting the green transition and the core of our business, namely how we can best serve our customers. Enjoy reading the 2nd edition of Finnlines News 2023.